Boost Your Mood with Skincare Aromatherapy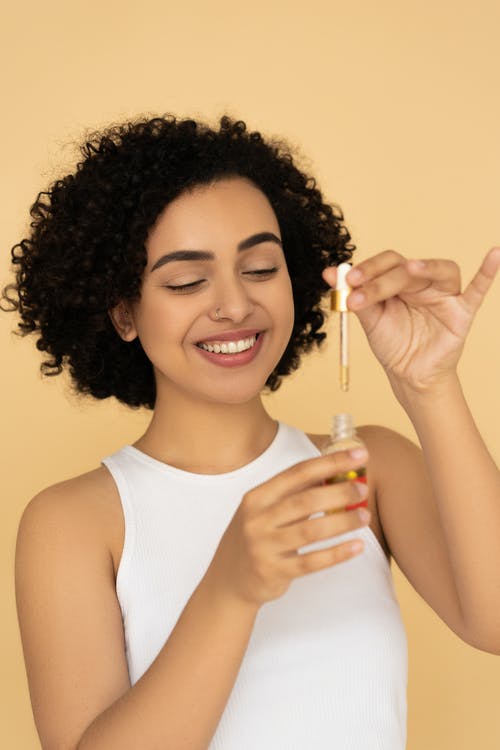 Skin, as we all know, is the human body's largest organ. It is powerful, protective, and capable of healing itself. It is also susceptible to influence, which is why we love using essential oils and the power of aromatherapy in our skincare products. Research shows that skincare aromatherapy—in addition to its positive topical effects—can boost overall wellness through the limbic, olfactory, and nervous systems. And couldn't we all use a mood lift these days?
An important note: Only a few pure essential oils can be applied neat (directly to the skin). Most essential oils are quite strong, and can be irritating when used directly on the skin without the proper mixture or dilution. Ensure your products are formulated with care and have been concentrated correctly for effective application. Abbey St. Clare products are formulated with expert scientific precision; read more here. 
Why Should I Try Aromatherapy?
Aromatherapy has grown in popularity in recent years. Here are some of the reasons holistic beauty and skin care enthusiasts keep adding it to their repertoires: 
Aromatherapy

has been around for thousands of years. Discorides wrote about it in 100 AD. The ancient Chinese, Indians, and Egyptians applied it for general health and wellness. Hippocrates swore by a "daily aromatic bath." The healing properties of botanicals are not new—they are ancient wisdom.

They have anti-inflammatory, astringent, antimicrobial and

antibacterial properties

. 

Essential oils can aid

skin regeneration

and elasticity. This makes them very useful in anti-aging compounds and in treating scars and blemishes. 

They can calm the

nervous system

. Essential oil fragrances are inhaled and can assist in the release of serotonin and dopamine, lifting your mood and helping you to relax.

Aromatherapy may assist with protection from dry or harsh conditions and sun exposure. Those anti-inflammatory, soothing properties also serve to

protect skin

in certain cases and can ward off the effects of a strong winter wind.

They smell fantastic. This is anecdotal, of course, but with dozens to choose from there truly is an essential oil for everyone's taste and specific needs.
Our Favorite Mood-Boosting Essential Oils
Everlasting (Helichrysum)
This "everlasting" flower is included in multiple Abbey St. Clare products—including our Botanical Oil #5—for good reason. Helichrysum is considered the best oil for bruises and, along with rosehip oil, for scars. If you get cosmetic facial injections, Botanical Oil #5 helps prevent and expedite the fading of any bruises. It helps balance skin tone and healthy regeneration for a true glow. Herbal health practices have included Helichrysum for thousands of years, and your face will thank you for the introduction to this ancient wonder. Helichrysum's scent is often described as earthy tea and honey, or as sweet, medicinal, and spicy curry.  Its scent is calming and quiets anxiety.
Lavender
Lavender is a popular essential oil. It smells marvelous but is also deeply versatile. From VeryWellMind: "It is purported to have anti-inflammatory, antifungal, antidepressant, antiseptic, antibacterial and antimicrobial properties, as well as antispasmodic, analgesic, detoxifying, hypotensive, and sedative effects." Add drops of our Lavender High Altitude French Essential Oil to your favorite lotion or face cream to benefit from its calming nature. Lavender Oats and Goats Soap contains the true essential oil benefits, and Lavender Hydrosol is an excellent anytime skin-calming and hydrating mist.
Lemon 
Lemon essential oil is another multifaceted delight. It's lovely in cleaning products and can soothe frazzled nerves. Pregnant women use it to decrease nausea and morning sickness. A diffusion of lemon in an oil diffuser can ease a sore throat. Our favorite application, however, is in the Four Marauders Soap. Lemon essential oil is combined with Eucalyptus globulus, rosemary, clove, and cinnamon oils for an all-over cleansing experience our customers love. 
Melissa (Lemon Balm)
Melissa, or Lemon Balm, actually derives from the mint family—although its scent is definitively lemon-like. Its active antivirals are maintained in our Melissa Hydrosol. Parents love to use it on babies after a bath to retain moisture and soothe delicate newborn skin. A mist is calming at any time, and a teaspoon in a glass of water helps calm the mind for sleep. It is a much underappreciated aromatic.
Rose Geranium
We only use organic Pelargonium roseum (Rose Geranium) essential oil in our Hibiscus-Rose Hydration Mist. It is one of the premier skin care botanicals, especially for stressed or aging skin. Native to regions of Africa, it is one of the most sought-after aromatherapy products on the planet. Set makeup in place or use on fresh, dewy skin to plump up cells and fight signs of aging naturally. It has a wonderful fragrance. 
Cinnamonum Camphora Oil
Also known as the oil of the camphor tree or camphor laurel, Cinnamonum camphora is used as a warming oil in our hugely popular St. Luke's Relief. Here, it is one of 18 oils synergized for reducing skin irritation, inflammation, and sore muscles. Experience true healing with this best-selling gel. The aroma of cinnamon oil helps reduce depression and anxiety, and encourages more restful sleep. 
Agathophyllum Aromatic (Ravensara)
Ravensara is also a prime ingredient in the St. Luke's Relief balm. And for good reason; it is spicy, warm, and inviting. It is not well known but is excellent to relieve aches, pains, and both muscle and leg cramps. This plant is native to Madagascar and the oil is steam-distilled from the leaves and branches, smelling of cloves and eucalyptus, which help reduce nervous tension. 
Santalum Album (Sandalwood)
Sandalwood is a revered essential oil, often used in sacred rituals by some. Sandalwood is one of many excellent ingredients in our Ginseng Firming Tonic—marvelous for anti-aging and brightening chronically dull skin. Because it is now the target of over-exploitation, our sources are carefully scrutinized to ensure a responsible, earth-friendly harvest. 
Melaleuca alternifolia (Tea Tree) Essential Oil
Tea tree oil is a medicinal and cosmetic boon and appears in over a dozen of our products for this reason. It contains antifungal and antibacterial properties, so it works wonderfully for  everything from acne to lice. Wound care, nail care, and even household cleaners are enhanced with a few drops of this elixir. We recommend Tea Tree Hydrosol for blemished or oily skin and Serum St. Martha for nail fungus.
Origanum Marjorana (Marjoram)
Sweet Marjoram is a culinary herb and a well-loved essential oil. A member of the oregano family, its highly aromatic little white and pink flowers bloom in the summertime. What is less known is its soothing properties in calming tension and anxiety. We add Origanum marjorana to our Vesper's Oil for a sound night's sleep. Incorporate it into your family's bedtime routine and see the immediate difference.
There is a right way and a wrong way to add essential oils to your daily routine. The benefits of aromatherapy are impressive when scientifically formulated skincare products are used. Calm skin and a calm mind can both be achieved. We recommend selecting one or two of the products listed above and adding them to your daily beauty regimen. Explore our other essential oil hydrosols here. 
Leave a comment
Comments will be approved before showing up.