A Rosy Outlook: Natural Skin Care for Rosacea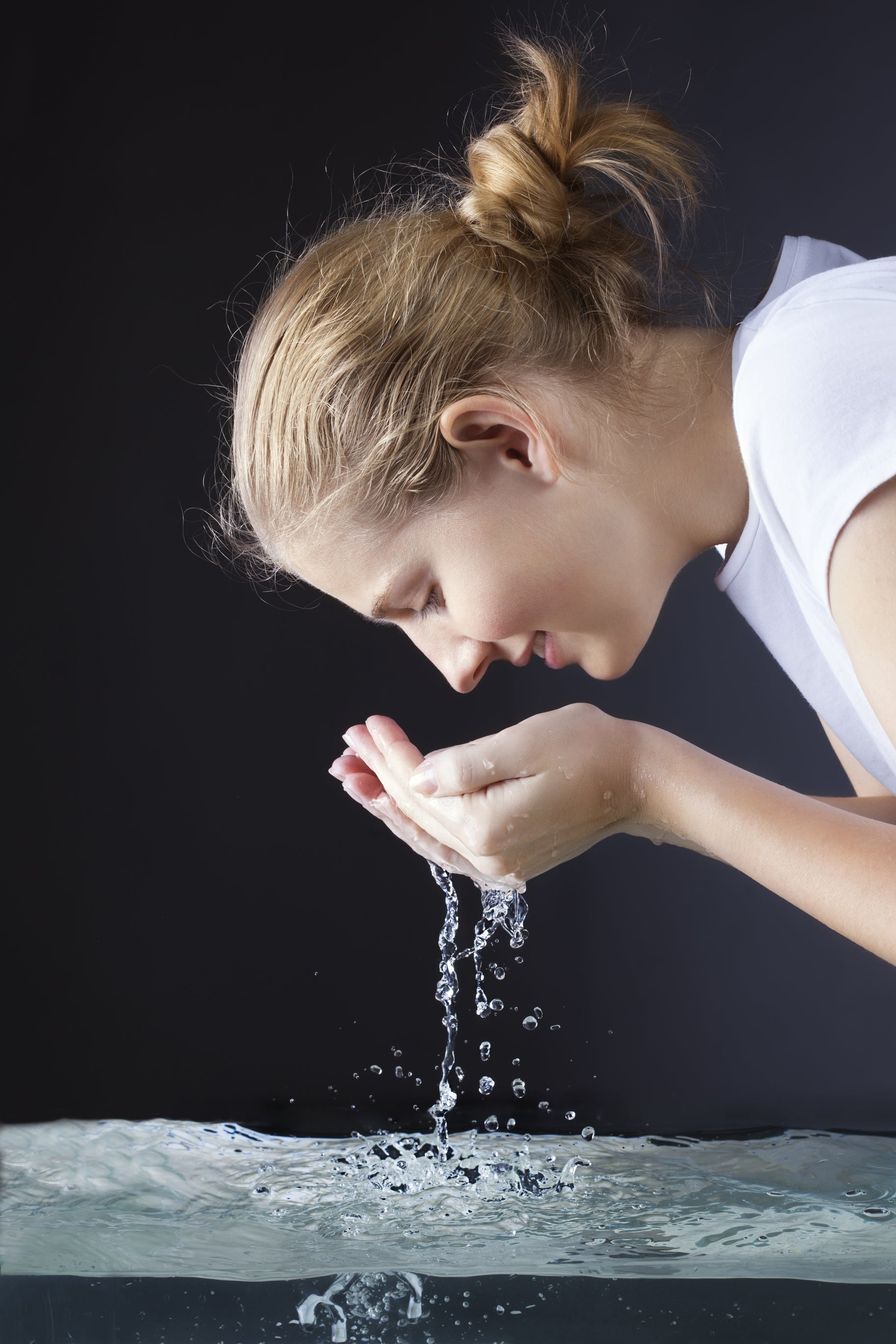 We've all heard how nice it is to have rosy cheeks, but rosacea is rarely so delightful. If you're suffering from this common condition, take a look at our top suggestions for the best natural skin care options for rosacea.
Rosacea is Common…and Commonly Unknown
It's estimated that as much as 10% of the population of the United States suffers from rosacea, yet many people remain unaware of the condition until they receive a medical diagnosis. The signs and symptoms of rosacea are largely unknown, and it's little surprise that many people who don't realize they have this condition may be inadvertently making it worse with improper skin care techniques.
The symptoms of rosacea are highly variable, and you may experience a number of side effects depending on your particular type of rosacea. Things to look for can include:
Flushed skin on the face, particularly around the nose and cheeks.

Broken blood vessels, also called "spider veins."

Skin that is swollen, painful, burning, stinging, dry, rough, scaling, itchy, or extremely sensitive to sunlight, heat, and skincare products.

Oily skin with acne, large and visible pores, or bumpy patches.

Skin that thickens around the nose or other parts of the face.

Sensitive or irritated eyes and the skin that surrounds them.
If you experience these symptoms, consider a new skin care routine to soothe your rosacea naturally.
Natural Skin Care for Rosacea
Although there is no cure for rosacea, you can talk to your doctor about new medications that may help. There are numerous triggers that can worsen the condition, especially from food and drinks. One of the most successful ways to ease your symptoms is to stick to an anti-inflammatory diet. Also try to avoid stress and alcohol, and be sure to always wear sunscreen.
A natural approach to skin care can really work wonders for your rosacea. Skin with rosacea is highly sensitive and can be easily irritated. This makes it incredibly vulnerable to many of the commercial products that are sold by the big brand-name companies, even the lotions and cleansers that are marketed for "sensitive skin."
Chemicals, additives, and synthetic ingredients tend to strip away natural oils and moisture, and these will wreak havoc on the tender skin of someone with rosacea. Avoid harsh cleansers, throw away drying soaps, and resist heavily fragranced lotions. Instead, start a natural skin care routine that is oil- and mineral-based.
Although it seems counterintuitive, a high quality botanical oil is a wonderful cleanser for your skin. This extremely gentle ingredient can unclog congested pores, soothe irritation and redness, and moisturize the skin. A simple technique is to massage a small amount of high quality oil (e.g., Rice & Olives Multitasking Oil) onto your face and throat for one to two minutes. Take a washcloth that is dampened with very warm water, and press it against your skin for a few moments. Repeat the process of wetting the washcloth and wiping the oil gently from your skin. When most of the oil is removed, pat your face dry. Your skin will be clean, smooth, and deeply hydrated.
Essential oils also offer numerous benefits when caring for skin with rosacea. These natural ingredients are excellent for reducing inflammation and calming skin that is dry, itchy, or sensitive. Cleansers, toners, and serums that contain a synergy of organic essential oils repair and clear the manifestations of rosacea. Some oils that have been scientifically proven to fight inflammation and soothe skin include lavender, chamomile, tea tree, eucalyptus, thyme, rose, geranium, and rosemary.
Hydrosols are another great option for easing the symptoms associated with rosacea. A hydrosol is an aroma-therapeutic water which is produced during the process of distillation of specific plant material to obtain an essential oil. It is safe to use undiluted on skin, so you'll never need to mix it with a carrier oil. Rose Geranium hydrosol is a soothing botanical water that is particularly effective for sensitive and inflamed skin.
Keeping your skin hydrated is important to keep rosacea symptoms under control. Unfortunately, many commercial lotions contain ingredients that remove natural oils in the skin and leave it dry, rough, and irritated. Rather than avoid moisturizing your skin, learn to identify the best moisturizers for rosacea skin care, such as fractionated coconut oil, aloe, shea butter, and other naturally hydrating ingredients.
Abbey St. Clare carries a line of premium Aniba Skin Care products that are ideal if you are suffering from rosacea. The cleanser, tonic, and serum are excellent for deep cleaning, soothing, and calming skin that is sensitive and irritated. Ingredients such as natural essential oils, white and red tea, hydrosols, and licorice extract work to reduce redness and relieve your distressed skin.
For skin with rosacea, a minimal skin care routine is the best approach. Avoid harsh commercial products, and use gentle botanical-based formulas to cleanse your skin. Follow each cleansing with natural moisturizers that won't aggravate your symptoms, and finish with an anti-inflammatory organic essential oil based serum or hydrosol.
Mineral Makeup and Rosacea: Tips You'll Love
Like your rosacea skin care routine, you'll find the best results if you use minimal makeup. With so many potential irritants on the market, remember to keep it simple and stick to organic cosmetics made with natural ingredients.
Avoid big-name makeup brands that are heavily loaded with chemicals and synthetic ingredients. Just as with cleansers and moisturizers, these can worsen inflammation and sensitivity, clog pores, and increase redness. You'll need more makeup to cover up your worsening symptoms, creating an endless cycle.
Break the damaging routine by switching to rosacea-friendly cosmetics. Avoid heavy products filled with chemicals, and look for minimal ingredient lists. Natural based mineral powders are a great choice for people with rosacea as they contain no irritating ingredients. Some are even formulated to even skin tones to correct excessive redness.
Avoid oil-based concealers and foundations that tend to clog your pores and worsen rosacea symptoms. Look for mineral products that are lightweight or sheer, such as Abbey St. Clare's Mineral Loose Foundation Powder, and choose a product that is one shade lighter than your natural skin tone. Our mineral makeup also contains natural sunscreen protection, which is a must for anyone with rosacea.
A green-tinted mineral corrector powder, lightly applied as a sheer primer, can help even out your skin tone and minimize redness overall. Abbey St. Clare's best-selling Baked Mineral Foundation is perfect for minimizing discoloration with lightweight, gentle coverage. Avoid bronzer, which will only emphasize redness, stick to sheer blush (applied with a light hand), and choose cool shades for your lip and eye colors.
If your eyes are also sensitive, mineral powder eyeshadow is ideal.  Abbey St. Clare offers Mineral Powder Eyeshadows in loose and pressed formats in a glorious array of beautiful shades. These premium silky shadows glide on smoothly, last all day, and are extra-gentle on the eyes, which is perfect for anyone with ocular rosacea.
Choose eyeliners and mascaras that are easy to remove. For both face and eyes, always use soft brushes and clean them regularly to help minimize flare-ups from makeup application. Try our ultra-soft Vegan Brushes, with synthetic hairs that are hypoallergenic and offer perfect coverage.
For skin with rosacea, less is more! If you use gentle and organic cleansers, followed by minimal amounts of natural mineral makeup, you'll have skin that glows with health instead of redness.
Leave a comment
Comments will be approved before showing up.