Can Your Natural Skin Care Products Relieve Your Stress?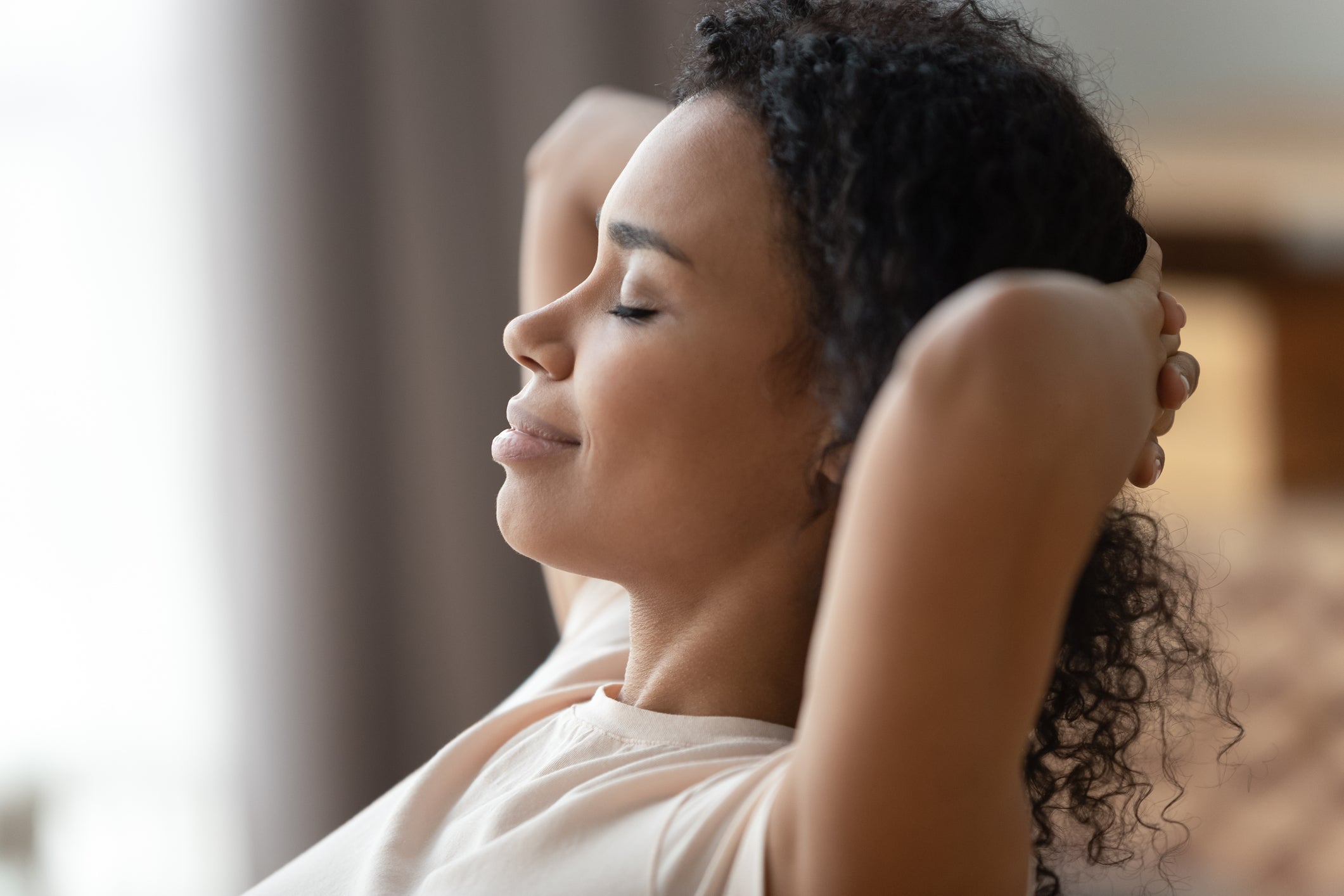 Can a well-curated beauty regime really help to reduce stress and anxiety levels? Yes. Breathe it in. Essential oils in skin care can work wonders for natural stress relief while supporting better skin health and overall wellness. Hydrosols are a unique delivery format for the active constituents of essential oils. Hydrosols are waters collected from the production of essential oils, which retain the essential oil actives in a more diluted form. When used as hydrosols, adding essential oils to your skin care routine provides all of the benefits of aromatherapy, taking your skin health—and your emotional health—to a new level.
The underlying premise behind aromatherapy is that specific plant oils have unique health effects and holistic benefits. Many ancient civilizations practiced aromatherapy—which can be thought of as "the olfactory mode of inhalation," or an "aroma treatment," if you will. Before the advent of modern pharmaceuticals, plant therapy was the only weapon in the medicinal arsenal. 
The return to naturals and organics over the last four decades has rekindled interest in the benefits of herbal healing in general, and aromatherapy in particular. Aromatherapy is now included across the spectrum for medical, massage, and cosmetic purposes, encompassing the olfactory mode of inhalation: the "aroma-treatment." 
Ready to learn how natural skin care products can help boost your mood and relieve stress? Great. Let's dive deeper into aromatherapy and how you can use essential oils in hydrosol form for healthier skin and a clearer head. 
What is Aromatherapy?
The first principle of aromatherapy is that inhaling therapeutic oils benefits the whole body as well as the emotions. Relaxing essential oils bring a wide range of health benefits, from relieving muscle tension to reducing swelling. Charlotte Ferguson, founder of Disciple Skincare and a psychotherapist, explains: 
"Essential oils are an incredible solution. Clary Sage was historically used for emotional tension, shock and mild depression. The aroma also works well for pain relief, helping to calm the mind, reduce cortisol levels and reduce anxious thoughts. Alternatively, lavender is a natural anti-inflammatory that helps to calm anxiety, improve relaxation and promote a good night's sleep." 
If only through smell alone, using essential oils in skin care can make a substantial difference in your mental and emotional health. But keep in mind that not just any scented product will do. You must be vigilant enough to recognize true essential oils from mere fragrance. A synthetic lavender fragrance is pleasant, but has no true aromatherapy value. While many products are marketed as having essential oil benefits, only quality-produced true oils and hydrosols provide aromatherapy benefits. 
Best Hydrosols for Skin and Emotional Health
For a full array of benefits from natural essential oils, you may want to consider adding hydrosols to your skin care routine. As a light misting spray, hydrosols offer an easy way to provide full coverage on your face, neck, chest, and arms. 
Adding natural essential oils to your skin care routine will not only boost your skin health, but also your ability to fight back against stress and anxiety. See below for an overview of our favorite hydrosols and the benefits of adding them to your skin care routine. 
Lavender 
Lavender essential oil has a rich history as a favorite among relaxing essential oils for stress relief. A number of studies have explored lavender essential oil's ability to relieve stress and anxiety in women at high risk for postpartum depression, participants with low to moderate anxiety, and even dental patients who experience pre-treatment stress.
Inhaling lavender essential oil can also relieve migraine headaches and support better sleep patterns, particularly in those who suffer from insomnia. When used as a natural sleep aid, research subjects who inhaled lavender oil experienced increased slow-wave sleep (SWS) and stage 2 sleep. As a result, subjects woke up feeling energized and more rested overall.
Lavender Hydrosol from Abbey St. Clare
When applied to the skin, lavender can produce a similarly calming effect. Our Lavender Hydrosol is perfect for soothing irritated or sensitive skin. It can even offer relief for mild burns and rashes, providing a natural way to incorporate essential oils in skin care. Lavender Hydrosol from Abbey St. Clare is safe for all ages of skin, whether you want to calm an irritated diaper rash or relieve stinging from a recent sunburn. 
German Chamomile 
German chamomile is made from the leaves of a chamomile plant (which is closely related to a daisy). Another form of chamomile is Roman chamomile—but to get the best results, opt for the German variety, as it contains higher levels of active ingredients. Chamomile oil has a wide range of benefits for both skin health and emotional health. For centuries, chamomile essential oil has been widely used for: 
Easing digestive upset, such as gas, nausea, or indigestion

Healing wounds, such as sores and ulcers

Relieving anxiety 

Soothing skin conditions, such as eczema or rashes

Promoting more restful sleep
In hydrosol form, German chamomile provides a soothing, refreshing mist that can not only help heal your skin, but also promote healthier sleep patterns and fight back against anxiety. A 2019 study even found that chamomile extract significantly enhanced the mortality of cancer cells. 
German Chamomile Hydrosol from Abbey St. Clare
Our German Chamomile Hydrosol is a powerful yet gentle mist that can provide deep calming and comforting benefits for both skin and mind. Use it as a gentle toner for sensitive skin for cleansing and calming results. Safe for use multiple times a day, this hydrosol can even double as an aftershave for men with sensitive skin. Similar to lavender, German Chamomile Hydrosol can also be used as a skin, room, or linen mist to keep anxiety and stress at bay (particularly before bedtime when stress may cause insomnia).
Orange Blossom 
Neroli essential oil (or orange blossom) is an extract from bitter orange trees. The oil carries a lovely—and very distinct—citrus scent that supports instantaneous relaxation. As a result, it is often used as a way to treat symptoms of anxiety or depression. When applied directly to the skin, orange blossom is one of the best essential oils in skin care for athletes. In 2012, a study of neroli oil found that it has antimicrobial, antifungal, and antioxidant properties. Neroli is one of the most expensive essential oils and is cost prohibitive for routine use. 
Orange Blossom Hydrosol from Abbey St. Clare
Orange Blossom Hydrosol contains the benefits of neroli essential oil at an accessible cost.
Our Orange Blossom Hydrosol features a delicious fragrance and a smooth misting application for immediate relief after a hard workout or a long day outdoors. Safe for use on sensitive, delicate, or oily skin, this hydrosol can reduce acne breakouts and soothe stressed, irritated skin. It can also be used as a calming agent to decrease feelings of anxiety, stress, or crankiness. Use our Orange Blossom Hydrosol on your face, back, shoulders, chest, or neck to fight back against clogged pores, oily skin, and breakouts. 
Rose
By any other name, it would smell just as sweet: rose essential oil is certainly one of the most well-recognized fragrances, and has been used for centuries. The scent of rose essential oil can produce a calming effect that lowers blood pressure and decreases cortisol production, acting as an effective stress and anxiety reliever.
When applied topically, rose essential oil can be a powerful addition to a natural skin care routine. In 2012, a study found that rose essential oil significantly decreased the effects of long-term stress, including the skin's ability to retain moisture and maintain a strong barrier. It is also anti-inflammatory, antibacterial, and can calm skin concerns such as rosacea and acne. 
Rose Hydrosol from Abbey St. Clare
Our Rose Hydrosol smells lovely and is a natural moisturizing mist that is perfect for normal, dry, sensitive, mature, or dull skin. As a mild astringent, it can help shrink pores and provide gentle cleansing, making it a great option as a daily toner. Because rose essential oil helps skin retain moisture, this hydrosol is particularly useful for dry or sensitive skin. It can even be used as a setting spray to settle makeup in place. Our Rose Hydrosol is a truly versatile addition to any essential oil skin care routine. 
Hydrosols with essential oil actives are a safe and effective way to incorporate natural skin care products into your daily routine. Essential oil hydrosols are wholly unique in their benefits: not only can you experience better skin health, but you can also renew your emotional health. Abbey St. Clare essential oil hydrosol products are sourced from organic distillers and are one hundred percent natural.  Experience naturally brilliant skin and mind with natural skin care products from Abbey St. Clare. 
Leave a comment
Comments will be approved before showing up.