How To Choose & Apply Natural Concealers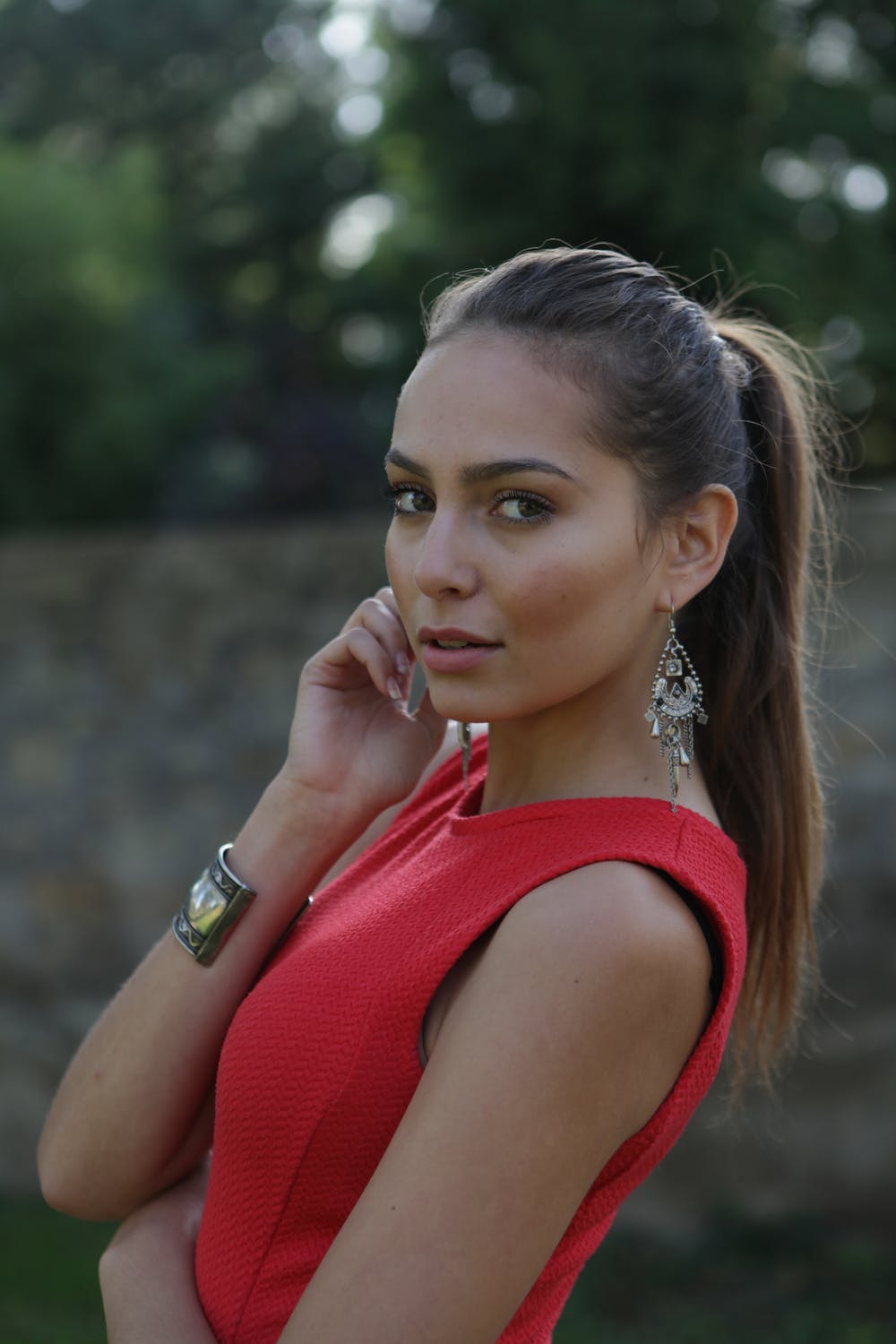 Natural-looking concealers can be a powerhouse addition to your makeup routine, creating a flawless and glowing complexion. But knowing how to choose and apply the right natural concealers is key. If you aren't using the right shade or consistency, you may not get your desired results. 
Do you know how to choose the right concealer? Should you get a concealer stick, cream, or powder? Are you using the right color corrector for your skin type? If you're feeling lost, know that you're not alone. Understanding how to choose the right concealer is tricky, and even the best natural concealers don't come with a how-to guide. 
Finding the right concealer for you is about more than selecting the right shade—you'll also have to ensure that you are getting the right texture and color correction for your specific skin care needs. You may even need more than one type of concealer for different facial areas. Learning how to apply natural-looking concealers means understanding how texture and pigment help conceal flaws.
For example, if you are using a concealer around areas that are prone to creases and fine lines, you'll want to make sure your concealer has the right texture so that it doesn't set in and accentuate, rather than conceal. And if you want your concealer to address redness, age spots, or under-eye darkness, you'll want to make sure that you are getting the right color correction. 
Using a natural-looking concealer will help you look and feel vibrant, confident, and glowing at any age. In the sections below, we'll walk you through the A to Z of concealers, including how to choose the right concealer and our favorite picks from Abbey St. Clare.
Choosing & Applying the Right Type of Concealer 
Concealers come in a variety of forms, including liquid, cream, stick, and powder. How do you choose the right kind of concealer? There are a few advantages to each type of concealer formula: 
Liquid concealer
Liquid concealer is well-suited for a range of skin types, and is one of the most popular forms of concealer. If you have dry skin, choosing a liquid concealer with hydrating properties can support better skin health while creating a flawless finish. Liquid concealer is typically available in satin, radiant shimmer, and matte finishes. Its buildable formula makes it easy to cover dark circles and blemishes in multiple layers as needed. 
Many concealers come with a built-in applicator tip, making it easy to apply straight from the bottle. You can also apply liquid concealer with your fingertips, blending in with a beauty sponge to ensure even coverage. If you are applying liquid concealer to your under-eye area, be mindful of how you apply: never rub concealer, as this area is easily damaged.
Cream concealer
Cream concealers have a thicker consistency and are typically best for medium to full coverage. These buildable concealers work well in camouflaging age spots and discoloration due to sun damage or aging. Cream concealer is best applied in small amounts, using either a concealer brush or a beauty sponge to blend and build additional layers as needed.
Stick concealer
Stick concealers tend to work well with drier skin, offering full coverage and hydration. Choose a stick concealer for full coverage from blemishes, discoloration, dark circles, and spots. You can apply a stick concealer straight from the tube, using your fingers to gently blend into the desired area. 
Powder concealer
Powder concealer is more pigmented than face powder, and can provide long-lasting, natural-looking coverage without making your skin feel weighed down. Because it can be used over or under foundation, powder concealers can be used to combat oily or combination skin. 
Powder concealers also give the opportunity to build coverage from low to full, making them ideal for anyone who wants to put the least amount of product on their facial skin as possible. This type of concealer is best applied with a brush for full-face coverage, or you can use a damp beauty sponge for more targeted coverage. 
Choosing the Right Color-Correcting Concealer 
Along with getting the right texture for your skin type and specific coverage needs, choosing the right concealer means understanding shades and colors. Undertones make a big difference in the type of concealer that you use for addressing color-related imperfections. Cancelling out redness, dark spots, and under-eye circles will each require a different concealer shade. 
For example, on the color wheel, green is the opposite of red. If you want to hide rashes, rosacea or acne blemishes, you'll want to choose a concealer with green undertones. If you are primarily concerned with covering dark spots or freckles, the best concealer for you will contain orange undertones, as orange is the opposite of blue. For covering dark under-eye circles or the appearance of facial veins, choose a natural-looking concealer with yellow undertones to cancel out purple shades. 
Keep in mind that there are some variances in undertones that are based on your natural skin shade. If you have darker skin, orange undertones will blend in nicely with your natural skin. But for lighter skin, choose a peach undertone to ensure that your concealer is as natural-looking (and as effective) as possible when applied on your natural skin tone. 
Best Natural Concealers from Abbey St. Clare
At Abbey St. Clare, our color-correctors and natural concealers are made with natural, vegan-friendly ingredients to ensure that imperfections can be covered without compromising your skin's health. See below for an overview of our best-selling concealer products to keep skin even, vibrant, and healthy. 
Soft Focus Mineral Concealer Cream Stick
Our Soft Focus Mineral Concealer Cream Stick is an incredibly natural-looking concealer, and works perfectly on even the most delicate of skin (such as the under-eye area). Moisturizing ingredients nourish the skin and support a more youthful appearance, while light-reflective minerals provide invisible camouflage for discoloration, blemishes, redness, and age spots. This concealer stick is effective when used to fill in fine lines and wrinkles, and can even address discoloration on your neck, hands, or legs. 
Concealer Trio
Use the cream-based Concealer Trio to rid your complexion of pesky under-eye discoloration while supporting better skin health. This trio comes in three effective shades to address a range of discoloration concerns, with a smooth formula that can be easily applied with or without foundation. A unique blend of botanical oils and butters promote soft, supple skin, including: sweet almond oil, palma christi oil, cocoa butter, and shea butter. Best applied with a taklon camouflage brush or a soft, synthetic kabuki brush. 
Corrector-Concealer Powder
Our Corrector-Concealer Powder balances skin tone, creates a smooth surface for foundation, and even delivers natural-based sun protection through titanium dioxide and zinc oxide. Choose the shade that works best for your specific concealer needs: 
Banana Cream

—Brightens, balances, and covers discoloration.

Cerulean Cream

—Neutralizes redness for lighter skin tones. 

Lavender Cream

—Creates a healthy glow for sallow complexions. 

Mint Cream

—–Combats redness for lighter and darker skin tones. 

Rose Cream

—Instantly brightens, creating a radiant glow. 

Vanilla Cream

—Brightens skin tone and covers discoloration. 
Corrector-Concealer powder can be used as a primer to create a smooth, even surface for foundation (while correcting blemishes and discoloration). It can also be used in spot applications when applying with a synthetic brush—because real hair does not absorb powder well, taklon brushes will be much more effective when applying Corrector-Concealer powder.  
Corrector Quint
A long-standing customer favorite, our Corrector Quint puts five powerful corrective shades at your fingertips. Neutral colors can be mixed together to achieve the perfect skin tone match, tackling hyperpigmentation, blemishes, and more. Our Mint Cream shade helps counteract redness from blemishes or rosacea, while Mauve helps brighten dull complexion and dark circles. The Corrector Quint helps you tackle an incredible range of discoloration concerns, such as: 
Redness

Bruising

Discoloration

Sallowness

Age spots

Bruises

Hyperpigmentation

Blemishes

Scars

Under-eye discoloration

Rosacea redness
Use alone or under foundation as long-lasting coverage for discoloration or imperfections. This concealer is best applied to larger areas when using a brush with taklon or synthetic fibers; for brush-free application, use your fingertips to gently blend into small areas of concern. 
Discoloration, blemishes, redness, and skin imperfections can make it difficult to find the right coverage. Finding the best natural concealers for you means understanding the texture and color-correction that will address your most pressing skin concerns. Trust Abbey St. Clare to provide natural-looking concealers that not only cover imperfections, but also nourish the skin for a more youthful, radiant, and healthy appearance.
Leave a comment
Comments will be approved before showing up.