How To Heal Your Skin Irritation Naturally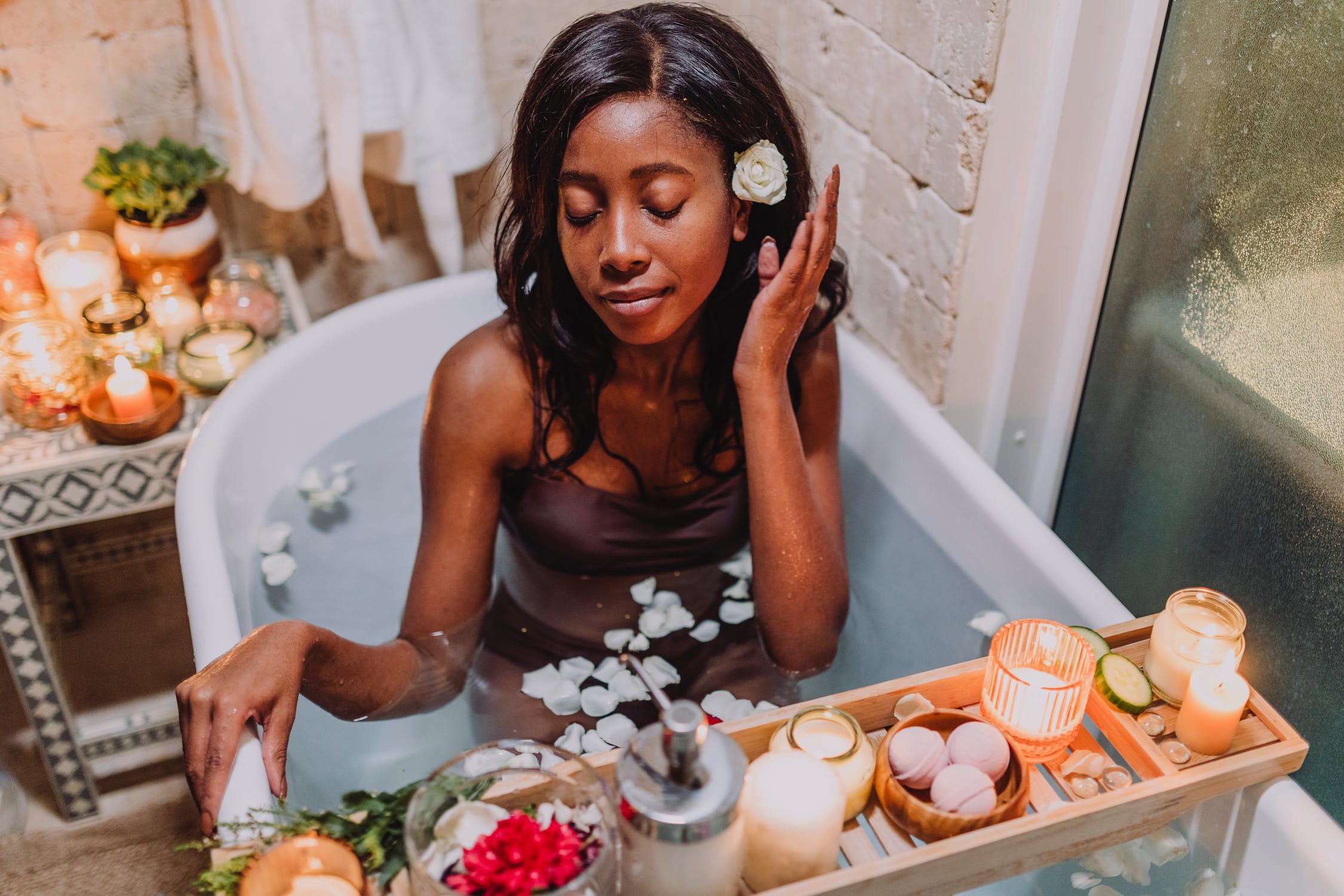 In the depths of winter our skin tends to act up. Dry, itchy, red, and irritated; it happens to people of all ages and skin types. Luckily, there are many naturally soothing ingredients available to make your skin feel good again. Below, we'll go through what causes irritated skin and how it can present itself. We'll teach you about the best natural solutions for topical application, and finally, we'll recommend our top products for natural relief of itchy and irritated skin. 
Top Signs of Skin Irritation
Itchy winter skin. Winter rash. Stressed skin. Xerosis. Whatever you want to call it, seasonal skin irritation is typically brought on by cold weather and lower moisture levels in the air. Here are five of the most common signs of irritated and angry skin:
Itchy skin

Red skin

Fine lines and cracks in skin

Rough skin

Sensitive skin
And dry skin isn't the only culprit. Other causes can include eczema, allergies, hives, bug bites, stress, and fungal infections. If topical creams do not suffice and these symptoms grow worse or more pronounced, Abbey St. Clare always recommends consulting a licensed dermatologist or your physician.
Natural Skin Care for Irritated Skin
Skin care for dry skin, for redness, etc. can be tailored to the individual. Below, we're detailing the benefits of 11 ingredients sourced from nature and scientifically proven to help with the symptoms listed above. You're invited to identify the ingredients you wish to try and explore our recommendations that follow. We are also here for any questions you may have regarding their use. 
#1:
Rice Bran Oil
Rice bran oil is an edible oil extracted from the hard outer layer of rice—also called chaff. It is a fantastic source of Vitamin E tocotrienol, an unsaturated form of the vitamin. It is an antioxidant many times more powerful and effective than the saturated form, Vitamin E tocopherol. It is very gentle on the skin and penetrates easily for deep cleaning while also softening and moisturizing.
#2: Helichrysum Essential Oil
Helichrysum italicum, or Immortelle, is a flowering plant found in Mediterranean countries. It can be recognized by its strong and heady scent (used often in perfumes) and by its tight yellow flower buds. Helichrysum essential oil boasts a number of intriguing properties including antimicrobial, anti-inflammatory, and wound-healing. It is one of our favorite essential oils for irritated and itchy skin.
#3:
Rosewood Essential Oil
Rosewood essential oil is extracted from the wood of the rosewood tree, or Aniba rosaeodora. It is quite different from the essential oils distilled from rose petals and is not used in the same applications. This oil is derived from steam distillation of the tree's woody matter. It works as a mild analgesic and contains linalool, which is known for its calming properties.
Note: Rosewood essential oil sourcing is important, as the Aniba rosaeodora tree is highly endangered due to deforestation in the Amazon. Efforts are underway to create more sustainable pathways for rosewood oil harvesting. Our rosewood oil source is sustainable and selected with great care.
#4:
German Chamomile Essential Oil
German Chamomile is also known as blue chamomile or "true chamomile." You'll find this essential oil in many beauty products such as shampoos and conditioners, lotions, and creams. It is wonderfully soothing when included in a lotion for itchy skin and contains astringent properties. Read more about adding oils to your skincare routine. 
#5: Green Tea Extract
There are few natural ingredients with quite the same punch as green tea extract. It is a powerhouse; rich with both nutrients and antioxidants. Studies have shown green tea provides benefits to the skin including pronounced moisturizing and improvement of skin microrelief. It also shows promising impact in the fight against acne. 
#6: Pomegranate Extract
The extract of the pomegranate fruit has been used in various medicinal applications around the world for centuries. The arils, or seeds, are loaded with vitamins, folic acid, flavonoids, minerals, and more. On the skin it aids with inflammation due to its rejuvenating properties.
#7: Glycolic Acid
Glycolic acid (an alpha hydroxy acid—AHA) is another truly effective skin "food" that works to slough off old, dead cells and reveals the radiant surface underneath. It can also assist with the stimulation of collagen. Glycolic acid works fabulously well and can be used daily (and safely) in the correct combinations. Products with lower levels of glycolic acid used daily are as effective as high content glycolic acid treatments performed intermittently. These more aggressive levels can lead to redness and irritation. 
#8: Salicylic Acid
Salicylic acid is a beta hydroxy acid, or BHA. We often hear its name brought up in connection with the clearing of acne from the skin. It deeply penetrates and cleans out pores to prevent the  clogging that leads to blackheads and pustules. That isn't the only benefit, however. It is also a strong anti-inflammatory, minimizes pore size, repairs razor bumps, and can help to calm any skin type. 
#9: Willow Herb/Bark
Salicylic acid is actually derived from willow bark . . . typically, from white willow trees. The bark contains salicin, which is broken down into salicylic acid for inclusion in many beauty products. Salicin is a natural exfoliant and also has natural polyphenols for moisture retention. 
#10: Niacinamide
Niacinamide is a form of vitamin B3. Topical niacinamide can help with the development of skin's moisture barrier and helps to neutralize the free radicals that can cause damage to your skin's cellular structure.
#11: Licorice Root Extract
Licorice root extract is another Abbey St. Clare favorite, thanks to its nearly 300 compounds that fight inflammation, viruses, bacteria, and sun damage. Irritated, itchy skin benefits greatly from products that include licorice root extract. It helps calm redness and balances skin tone. 
Five Abbey St. Clare Products that Soothe Irritated Skin
Angry, dry skin can be a seasonal issue. If it's happening every time the temperature dips, however, then it's chronic—and it will likely worsen with age. Get ahead of flaky, sore, red winter skin for good with our most popular, best-selling products for skin irritation. 
Aniba Cleanser and Tonic Super Duo
The Aniba Cleanser and Aniba Tonic work hand-in-hand to soothe the most distressed skin. Begin with the Aniba Cleanser, formulated upon a foundation of gentle aloe vera cream. Essential oils of rosewood, helichrysum, and German Chamomile are blended together with hyaluronic acid, pascalite clay, key vitamins, teas, and activated charcoal for an elevated restoration experience. The Aniba Tonic is then applied to clean skin. The same calming elements, along with organic hydrosols and glycerin, create a protective layer that won't dry out or disappear. You are left with happy, nourished skin that improves with every use.
Rice & Olives Multi-Tasking Oil
There is no product in the Abbey St. Clare shop that is quite as versatile or as accomplished as this oil. Rice & Olives Multi-Tasking Oil can be used for cleansing, moisturizing, as a nightly treatment, or for a little extra TLC during the day. Rice bran oil is paired up with olive, marula, and rosehip seed oils for a grease-free treatment that will leave you glowing. Itching, begone!
Kettle Soap
Our beloved Kettle Soaps soothe skin from head to toe. The truly sensitive will appreciate the Castile Bar, which is made without fragrance. We also recommend the Activated Charcoal Tea Tree bar, Lavender Oats, and SUPER SHEA bars for an irritated skin treatment that works.
Vitamin B Complex Creme
Finally there is our Vitamin B Complex Creme, one of the best moisturizers for itchy skin. Some moisturizers are heavy and unctuous. Vitamin B Complex Creme is light and assists in balancing skin oils—not overloading them. This is accomplished with tea tree oil, salicylic and glycolic acids, and Vitamins A and C. 
Banish Skin Irritants for Good
No matter the season, it is possible to rid yourself of the many symptoms of sensitive, dried-out skin. The right skin care routine can elicit professional results and banish this burden for good. 
Leave a comment
Comments will be approved before showing up.