How To Perfect Your Eye Makeup Routine with Natural Products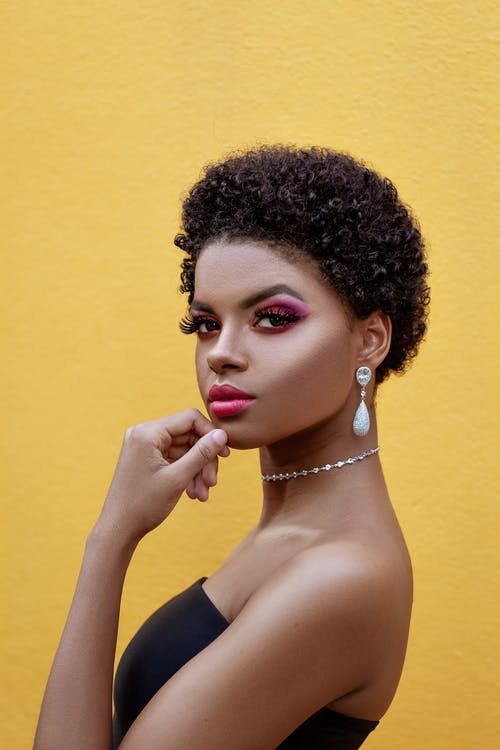 Perfecting your eye makeup routine is essential to polishing off a naturally flawless look. It begins with selecting the right natural eye makeup products for your makeup collection. Natural eye makeup products are designed to feel rich and creamy, leaving your skin with a luxurious finish. They don't contain any harmful ingredients, so you won't have to worry about negative effects. The sheer volume of consumer makeup products may overwhelm you as you look for eye makeup products to add to your makeup collection. Let's take a closer look at the natural eye makeup products that can help perfect your eye makeup look.
Loose vs. Pressed Eye Shadow
Your eye makeup routine usually begins by applying eye shadow. Natural eye shadow comes in a variety of forms that range from loose to pressed. You'll want to consider the type of finish you want for when you're picking an eye shadow. There are a few key differences between loose and pressed eye shadows that can help you decide which one to use.
Loose
Loose eye shadow is more finely milled compared to a traditional pressed eye shadow. This means the eye shadow is very finely broken down and will have a more sheer, natural finish rather than a higher pigmentation. Color is buildable, though, when you apply it in layers. 
Loose eye shadows will also give you a longer-lasting eye makeup look since they tend to absorb oils more than a pressed powder. Your eye makeup will have a beautiful sheer-like finish after application. 
Loose eye shadow glides across your eyelid like silk, so application is easy. To apply, select your favorite fluffy eyeshadow brush. Collect a small amount of the eye shadow onto the bristles and tap away any excess. Sweep lightly across your eyelid, blending as you go. Loose shadows are easy to blend since pigmentation is low. If you don't like the way heavy makeup feels, a loose shadow may be your best choice. 
Pressed
Pressed eye shadows are more traditionally used for eye makeup looks because they provide more coverage. You will have a more pigmented look with a pressed eye shadow than with a loose eyeshadow. 
Pressed eye shadow glides beautifully onto the skin and is easily buildable, giving you more coverage and more vibrant color. To apply, dip your eye shadow brush into the powder, being sure to get a good amount onto the bristles. Tap away any excess and start sweeping across your eyelid. 
Blending is very important when you're applying a pressed eyeshadow and it's your key to creating a flawless finish. To blend, sweep your brush back and forth across your eyelid in windshield-wiper motions. Continue these steps until you are satisfied with the coverage, color, and blending. If you want a more pronounced or prominent eye makeup look, opt for a pressed powder.
Mineral Eyeliner
No eye makeup look is complete unless you use an eyeliner to shape, enhance, and define your eyes. Using natural eyeliner appropriately will make your eyes pop. 
To help your eyes appear larger, apply eyeliner to the top lash line, just beyond the outer lashes, flicking upward and outward. Smudge the liner into your eyelashes to prevent a noticeable, sharp line. The goal is to enhance your eyes, not draw attention away from them.
Apply our Eyeliner Mineral Indelible Duo Pencil/Smudger in a fun shade such as Imperial or Jaded for a colorful pop, or opt for Pitch Black for a more bold look. This eyeliner glides onto the skin beautifully and is incredibly long-lasting. Bonus: You don't need a sharpener for this product.
Use eyeliner sparingly, if at all, on the lower lashline. If you line your entire eye, it will make them appear small and closed. Use eyeliner only on the very outer corners of your eyes while smudging it into the lower lashline. Clean up any loose lines or extra smudging with a touch of concealer.
Eyeliner Sealant 
Nothing is much worse than running eyeliner. When you wear makeup for long periods of time, you will probably need to touch it up throughout the day. Eyeliner sealant is an excellent solution for preventing any eyeliner mishaps. 
You can use eyeliner sealant to set your eyeliner into place, giving you long-lasting eyeliner color and preventing any running or smudging during the day, and lasting into the night. If you plan on wearing makeup all day, or if you have trouble keeping your eyeliner where it should be, this is a great product to add to your collection.
Eyebrow Powder
One of the most important steps with your eye makeup look is ensuring that you fill your eyebrows. Unfilled eyebrows can drastically change the look of your eye makeup because your eyebrows naturally frame your eyes. Coloring and filling them in is an important step that will complete your eye makeup look. 
Eyebrow powder is a wonderful product to use to fill in your eyebrows. Opting for a natural eyebrow powder versus an eyebrow pencil will give your brows a more natural, fluffy look. You can apply our Brow Definer Pressed Powder with an angle brush, using light strokes that go in the same direction as the hairs. This eyebrow powder has a cream-to-powder luxury finish that is smudge-proof, long-lasting, and can be color-customized with minerals so that you get the perfect color match. If you prefer a more dramatic eyebrow, simply use a firmer brush.
Eyebrow Lift
If you have thinner eyebrows, or love the look of a dramatic eyebrow, an eyebrow lift product may be an excellent choice for you. Our Brow Lift balm gives you naturally fuller eyebrows. 
This product uses a unique combination of mineral color and safe-setting emollients, emphasizing your natural arch. The balm formula fills in bare areas between the hairs for fuller-looking brows. 
Depending on the look you want, you can apply the brow lift balm with a firmer angle brush for dramatic effect, or with a fluffy angled brush for a more natural effect. Either way, you can lift, fill, and color your brows for an instant eyebrow lift with this handy product.
Lash and Brow Peptides
Let's face it. At some point, we will start losing some of our natural eyebrow hair and eyelash hair. It happens over time. The most common culprits are aging and normal wear and tear from using makeup. 
Lash and Brow Peptides is a natural product that helps promote hair growth. Rather than spending tons of money on harmful eyelash extensions (which can actually worsen your natural eyelashes) or microblading your brows, grab a bottle of lash and brow peptides.
To apply, use an ample amount of product, such as our Lash and Brow Enhance, on both the upper and lower lashes, as well as your brows. It is most effective if you use it before bedtime, but you can apply it in the morning as well. Let it fully dry before you add any kind of makeup on top of the product. 
The full results might take anywhere from three months to one year, but you won't regret the time and effort you put into this routine.
You are the Artist
Perfecting your eye makeup look is simple enough when you use the right products. Choosing the right natural eye shadow, loose or pressed, is a great place to start. Follow eye shadow with a mineral eyeliner and complete your look by framing your eyes and filling in your brows. 
The great thing about makeup is that it is an art, and you are the artist. You can create a unique look each time you pick up a makeup brush. Natural eye makeup products will give you a beautiful finish whether you want a dramatic, bold look or a no-makeup look. Whatever you choose, you have the right products to achieve the results that please you most.
Leave a comment
Comments will be approved before showing up.