Kashmir Pearls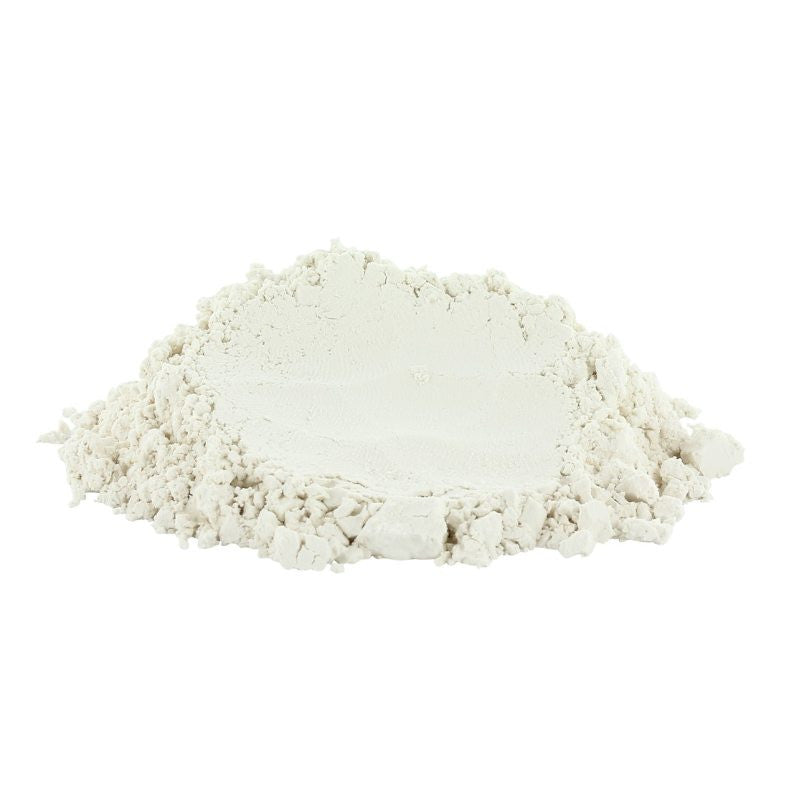 Some of our most popular mineral powders are the Beryl primer/finishing powder formulations, often known as mineral veils. Used alone, under makeup or as a finishing powder, they flatter every type of skin. Our newest formulation adds an enhanced skin care aspect that takes these powders to a new level.
Kashmir Pearls is a mineral veil that can be used alone or as a primer or finishing powder. It is an ultrafine powder that is amazingly soft and glides on your skin. It is light as a feather --actually, much lighter than feathers-- and will make your skin visibly smoother immediately.
For thousands of years, Asians have used pearl powder for health, youthful vitality, and beautiful skin. The reported wonders of pearl powder are legion (through both ingestion and topical application) and it appears to do everything except bring in the newspaper and make your morning coffee. We tend to avoid recommendations that involve eating the skin care actives, so our focus is on what it can do to enhance your skin. Centuries of beneficial use are compelling testimony to its effectiveness to combat signs of aging and repair and renew skin.
Pearl powder is finely milled freshwater or seawater pearls that is hydrolytic and easily absorbed by the skin. Being hydrolytic means it is readily acceptable to skin cells where the work of repair and regeneration takes place. What makes pearl powder unique is that is contains a host of amino acids, proteins, vitamins, and minerals, including calcium, zinc, iron, copper, strontium, selenium, silicon, and titanium.
Chinese studies report that pearl powder enhances the activity of superoxide dismutase (SOD), the skin antioxidant enzyme which eliminates free radicals that lead to wrinkles and skin aging. Its skin brightening activity is also related to this enzyme, minimizing melanin production which causes freckles, age spots, and dark patches on the skin.
A short list of benefits ascribed to pearl powder include:
• Prevents and smoothes wrinkles.
• Brightens skin and lightens age spots, acne blemishes, areas of hyperpigmentation.
• Promotes soft skin that is smooth, fine, and elastic.
• Promotes collagen production to firm skin.
• Neutralizes skin damaging free radicals.
• Antiseptic properties promote healing for acne, rashes, boils.
• Promotes healthy skin metabolism that minimizes overactive oil production.
• Promotes surface exfoliation to encourage skin renewal.
• Provides some sunscreen protection.
Kashmir Pearls contains 30% pearl powder. Contrary to expectation, it has no sheen. Additional ingredients include skin healthy silk powder and vitamin C, silica microspheres to enhance glide and smoothness, and fractionated coconut oil to provide some moisture. While a white, translucent powder, it settles into the skin oils very quickly and takes on the natural hue of your skin. While the FDA does not have an opinion on the claims ascribed to this ingredient, what is apparent is that pearl powder is packed with skin care actives that are known to promote healthy, youthful skin. There are no reported issues with safety whether the powder is ingested or applied to the surface of skin. In this case though, please do not eat the face powder.
Leave a comment
Comments will be approved before showing up.