Rosacea natural treatments that may be just what you need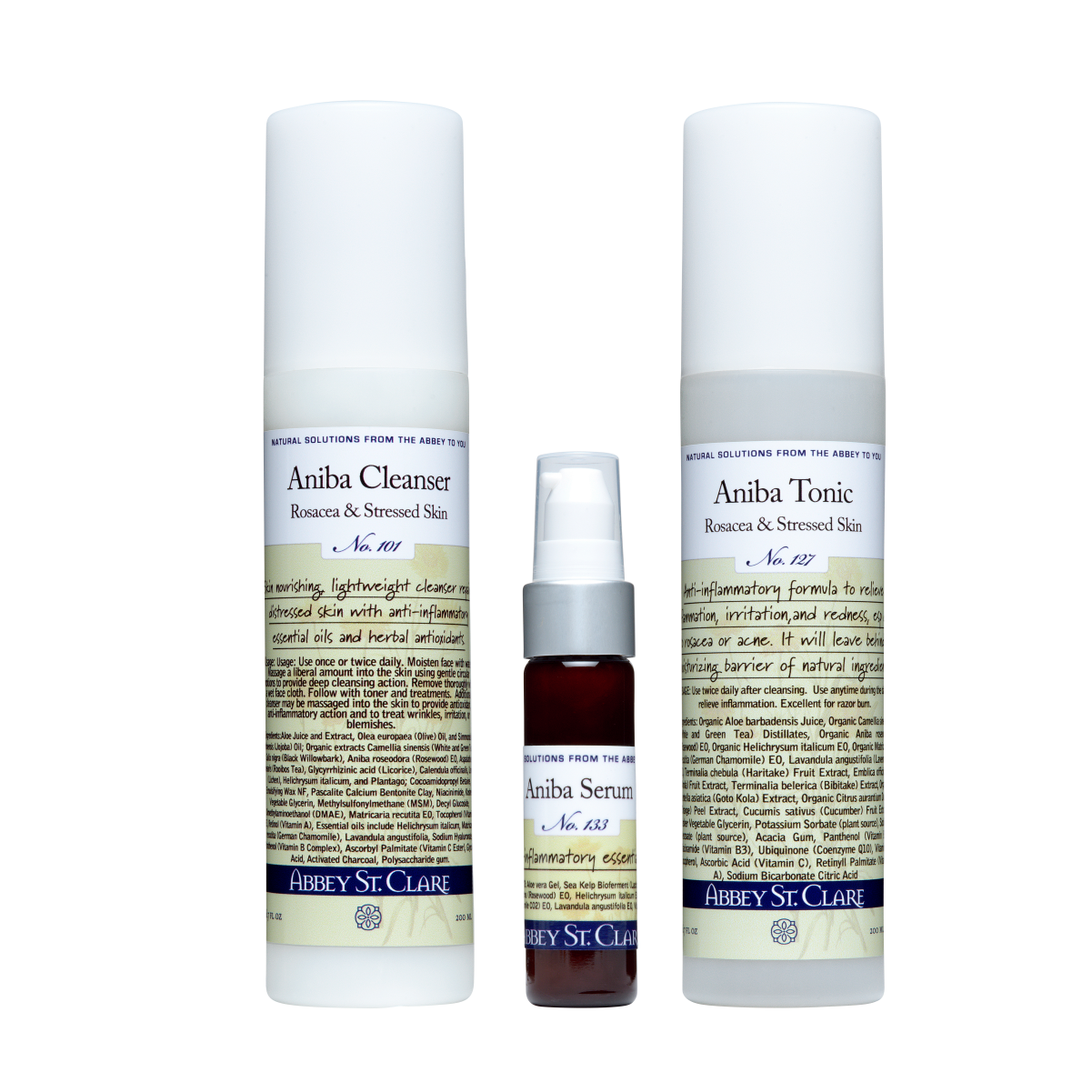 If your skin around the facial area has been feeling irritable and angry red blotches have appeared on it, then you may have rosacea. Here are some rosacea natural treatments that may work for you. You'll feel the difference after a couple of applications, and the long-term effects will be satisfying.
"Best ever for bad skin. I write to commend the Aniba products. I have very sensitive and blemished skin. I read about these products and tried them and am amazed at the clearing of my skin. It is now smooth and soft. People ask what I have done. I am glad to have found these." - Johanna, Netherlands
What is Rosacea? Rosacea is a chronic skin condition that causes inflammation in the skin and affects the skin on the face. It is more than just a temporary facial flush; it is a condition that remains on the face for days, weeks, or longer. If left untreated, it can worsen, making the skin look red and bumpy.
Typically, it affects the nose and cheeks, but it can also affect the area around the eyes, and even the eyes themselves. Often it is mistaken for a skin allergy or eczema. Make sure to consult your physician to make sure you have rosacea. Rosacea can occur for many other reasons.
Unfortunately, not much research has been conducted on it. It is not considered to be a life-threatening disease. Even so, you may find it difficult to continue with your day-to-day activities.
It is very important to understand that eating a healthy diet dominated by fruits and vegetables, and avoiding processed foods, helps in reducing rosacea. Every skin condition is a good example of something going on internally. Acne can be caused by an upset stomach or eating extensively oily foods. This is why it is recommended to always follow proper diet and exercise plans that help you stay fit. Be sure to increase your intake of water per day.
Olive leaf extract is one of the most effective and powerful internal tools to fight rosacea. Taking olive leaf extract supplements helps reduce the effects caused by rosacea. Natural treatments for rosacea, applied topically, can be a good way to reduce the inflammation that appears on the skin.
Rosacea Natural Treatments
One of our rosacea natural treatments is the Aniba Tonic. It is highly effective in treating rosacea and helps the skin return to its normal healthy hue. Made from all natural ingredients, it effectively fights off the inflammation and leaves your skin feeing fresh and rejuvenated. Natural ingredients include witch hazel, cucumber, licorice root, oats, black willowbank, and aniba roseodora essential oil.
Aniba Cleanser is an effective way to keep your skin clean and healthy.  Cleansing your face with this natural product helps in reducing rashes on the skin, while giving it a radiant look. It is made primarily for irritated or inflamed skin, which is highly beneficial for you if you have rosacea. It contains such natural ingredients as aloe juice, olive oil, rooibos tea, organic calendula flower extract, white tea leaf extract, licorace root extract, and aniba roseodora essential oil.
We also recommend using Aniba Serum. It contains vitamin B3 along with German chamomile oil extracts, rooibos, and pomegranate, which help in calming skin. irritation and nourishes the skin. Blemishes disappear with consistent use, and you will feel the inflammation lessening little by little.
You may wish to order all three, with our 
Aniba Skin Care Set
, (Aniba Tonic, Aniba Cleanser, and Aniba Serum) to neutralize  inflammation and reduce the redness on the face.
Our customers who suffer from rosacea also report that they have seen an impressive change in their skin when they spray on our German Chamomile Hydrosol. It is an anti-inflammatory spray that is highly effective on sensitive skin. We created these solutions specifically to help those who suffer from rosacea and other skin inflammation issues.
We worked diligently to make best use of natural ingredients that are kind to the skin while helping the skin repair itself. You will notice a difference. For some people it happens within a couple of days, for others it takes more time, as with most things in life.
"I have used both the Aniba Tonic and the Aniba Serum for a little over a year, and they have improved my skin so much that I have been able to stop using the medication that was prescribed to me for my rosacea. The Aniba Serum is a very nice serum that is absorbed very well into the skin. In addition, it doesn't aggravate my skin sensitivities in any way, which alone makes me quite happy, as many products (even those made for sensitive skin) seem to be too harsh. I use the serum in my morning skincare routine, after the Aniba Tonic and before my moisturizer. I love what the Aniba products have done for my skin and am very happy to have found them." - SF, Boston
Leave a comment
Comments will be approved before showing up.