Take Care of Your Skin Naturally This Winter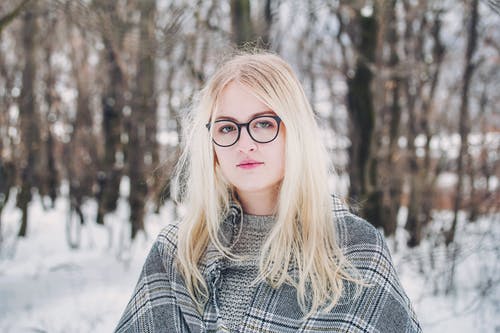 It's easy to remember to protect your skin when summer arrives, and the endcaps of every store are covered in brightly colored bottles of sunscreen. But protecting your skin in the winter might be even more important than in the summer. Dryer air, colder temperatures, and harsh winds all wreak havoc on your skin, especially your face and lips. Whether you are staying inside this winter or heading for the slopes, follow these five easy steps to keep your skin healthy all winter long. 
Lighten up on your skin cleansing routine.
Go easy on your skin through the winter. Only wash once, preferably at night, and don't use hot water. Micellar water is best for gentle cleansing because you don't need to rinse with water, and the less water you use on your face when cleaning, the better. 
Use gentle cleansers such as a fragrance-free bar soap or our Gentle Antioxidant Cleaning and Eye Makeup Remover. Not only is it gentle, but it has nourishing white and green tea extracts,  vitamins C, E, and A, milk and honey, and a host of herbs that leave your skin soft and smooth. 
If you wash with warm water, do a quick cool water rinse afterward to constrict pores and lock in natural moisture. 
Exfoliate only as needed. If you have dry, flaking skin, a gentle exfoliant will help remove the dead skin and promote new growth, but don't over do it. Exfoliating too much or too aggressively can do more harm than good. Once or twice a week is plenty in most cases. Always apply moisturizer immediately after exfoliating. 
After washing your face, blot gently with a soft cloth rather than rubbing, which can do more damage. This might be a good time to make sure your detergents and fabric softeners are gentle on your skin as well. 
Keep your skin moisturized.
Winter is the season for chapped hands, lips, and cheeks. Space heaters, hot water, and sun exposure intensified by snow can all dry out and stress out your skin. Help them recover with added moisture. We recommend substituting normal lotions with more robust ointments and creams such as our Creme de Beurre, which is a thick, rich cornucopia of essential oils, including neroli oil, that nourish and repair hands and body. It is excellent for moisturizing shaved areas. 
In general, moisturizers fall into three categories: 
Emollients
If you have dry, cracked skin use natural emollients such as shea butter, cocoa butter, beeswax, and even emu oil (ethically sourced, of course) to help repair your skin. The emollients fill in the cracks and smooth out your skin.
Humectants
Humectants are also helpful in counteracting the drying effects of soaps and alcohols. Humectants extract water molecules from the air and pull them into your skin. Skincare products don't typically say humectant on them, so look for these common humectants in the ingredients: amino acids, glycerol, honey, molasses, egg white and yolk, aloe vera, ceramides, alpha-hydroxy acids, glycerin, and hyaluronic acid. Our Rose Hydrosol is an exquisite, travel-friendly humectant. 
Occlusives
Occlusives seal the skin and lock in moisture. They also keep irritants and allergens out of the skin. Most moisturizers include occlusive ingredients such as petrolatum, silicones, waxes, oils, and butters. If you want to double up on your protection for a day in the snow, you can use straight petroleum jelly. Occlusives are not recommended for people with oily, acne prone skin. 
Add moisture at night, right after washing, so it has the maximum amount of time to absorb deep into your skin. If you are in an especially dry climate, you can sleep with a humidifier to keep your skin hydrated through the night and into the day. 
If retinoids and alpha-hydroxy acids tend to dry out your skin, winter is a good time to stop using those as well. Your skin doesn't need any extra stress during cold weather.
Combat the harmful effects of ultraviolet rays with natural SPF.
Many people don't think about SPF when they're not headed to the pool or the beach, but SPF is a daily essential through the winter, especially if you live in a snowy area. Ultraviolet (UV) rays and their potential harmful effects (aging and cancer) are not absent during the winter.
Thick, low-hanging winter clouds do not block UV rays. Snow on the ground reflects those rays right back onto your face. Windows don't block UV rays either. So if you work in a sunny office all day long, you need SPF. If you walk outside every day, you need SPF. If you are going skiing, you need SPF. If you want to combat signs of aging, you need SPF. 
After cleansing and moisturizing your face, apply an SPF primer such as our BB Cream Foundation before applying the rest of your makeup. Not only does an SPF primer protect against the damaging effects of the sun's UV rays, but also it can help balance skin tone, hide age spots, keep skin hydrated, and camouflage blemish spots. 
SPF is even more important if you are hitting the slopes. Did you know that UV radiation increases by 5 percent every thousand feet above sea level? Snow amplifies UV radiation by reflecting them. Snow and wind can wear away your sunscreen, so pack a sunscreen stick or two with at least SPF30, and keep one with you to reapply every two hours and/or after sweating. 
And don't forget your lips! The skin on your lips is thinner and needs extra protection. Use an SPF lip balm and/or one of our antioxidant conditioning lipsticks to protect your lips through the cold winter months and beyond. Your lips will thank you. 
After a long day on the slopes, treat your face to a steam facial and some extra moisture. 
One more note about sun protection: put your tanning bed subscription on hold for a few months. If you tan for vitamin D, take supplements instead. Your skin and your bank account will both appreciate the break. 
Protect your skin with mineral makeup. 
Use mineral powder makeup on top of your moisturizer and sunscreen to help lock in moisture and protect your skin throughout the day. Our Mineral Loose Foundation Powder does this exceptionally well. These powders form a protective barrier on the skin, which promotes healing. They also contain titanium dioxide and zinc oxide, which provides non-irritating, natural sun protection. Plus, they are lightweight, breathable, and super silky–they will not cause itchiness or flaking in the cold. Chances are you will like them so much you will never go back to regular foundation. 
Bundle up. 
When you bundle up to go outside on a cold, windy day, cover your face as much as possible. Pull your scarf or coat up over your lips if you can. Wear big sunglasses that can protect your eyes and your cheeks. And wear a hat with a brim that shields you from some of the wind. 
If you follow these tips, your skin will look smooth and supple all winter long.
Leave a comment
Comments will be approved before showing up.