What Are Natural Ceramides & How Does Ceramide Skin Care Help Your Skin?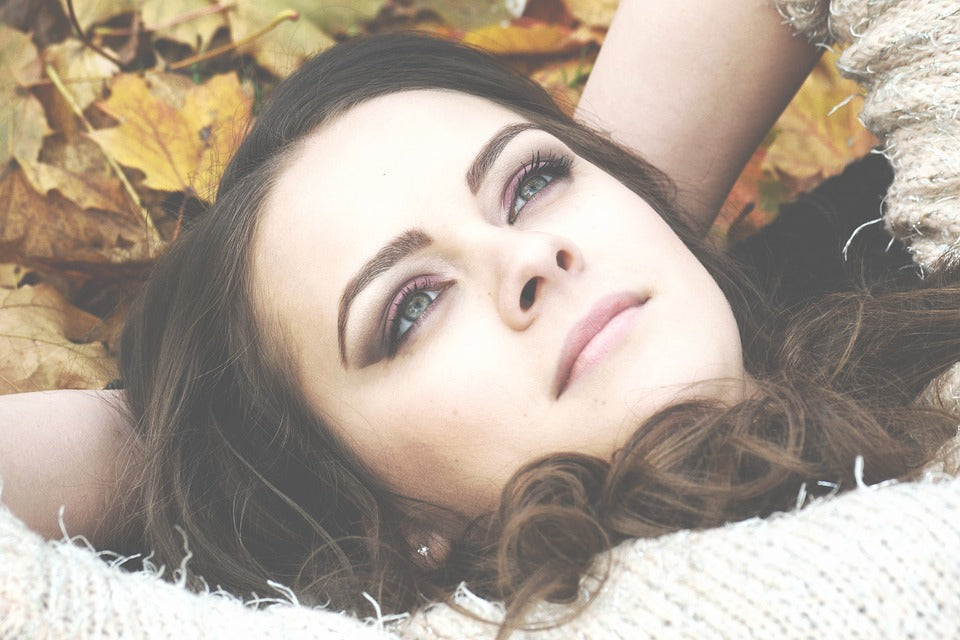 With fall in full swing, temperatures are dropping and winter weather is just around the corner. The seasonal effects of dry, chilly air can wreak havoc on your skin—especially if you are already prone to dryness or irritation. If you're doubling down on your daily moisturizer and the wind and chill are still keeping your skin dry, itchy, or inflamed, you might find relief (and results) with ceramide skin care.
You may not have heard of ceramide skin care before, but you've been living with ceramides and benefitting from them your entire life. Ceramides are natural building blocks in everyone's skin—and just as with elastin and collagen, that natural production starts slowing down as we age. Some of us tend to have fewer ceramides than others to start with, leading to chronic dryness, rosacea, acne, and psoriasis. 
For troublesome skin, ceramide skin care offers a natural-based solution for a range of common skin problems, with ceramide benefits lasting from one season to the next. And ceramide creams are also effective anti-aging solutions, making a compelling case for a ceramide-rich skin care routine at all ages.
If you are curious about the benefits of ceramides in skin care and want to learn more, you're in the right place. We'll tell you everything you need to know about ceramides, why they are so effective for skin health, and how you can use them to enjoy vibrant skin year-round. 
What Are Ceramides?
Ceramides are fat molecules (lipids) that are part of your skin's natural barrier. Don't shy away from the thought of having fat cells in your face—you need these lipids in order to maintain your skin health! 
Ceramides act as connections in the chain of your tissues and membranes. They fuse your skin cells together, making your skin stronger, smoother, more hydrated, and less susceptible to environmental factors. Think of them as magnets, bonding together and creating a barrier. 
All types of skin need ceramides, but in varying degrees. Those who suffer from problematic skin (such as skin that is chronically dry or people who have rosacea, acne, or eczema) likely have fewer natural ceramides. Although your body naturally produces ceramides to keep the outer protective layer of your skin intact, having fewer ceramides decreases the strength of that barrier. 
It also means that your skin is more susceptible to environmental factors and a host of vulnerabilities, including:   
Dryness and irritation (such as eczema and psoriasis)

Breakdown of collagen and elastin

Fine lines and wrinkles

Loss of skin elasticity
Of course, we all gradually lose our ceramide production as a natural part of the aging process. According to Karelle Messner, vice president of Global Skincare at Elizabeth Arden, "By the time you are in your 30s, you have lost about 40 percent of your skin's ceramides, and by your 40s, you have lost 60 percent of your skin's natural ceramides." 
Ceramide production can also decrease from seasonal changes, diet, and environmental factors such as harsh soaps and chemicals. While there are plenty of opportunities for ceramide production to slow down, the good news is that ceramide skin care can help you replace those much-needed lipids and continue to enjoy healthy, vibrant skin.
Why Your Skin Needs Ceramides: Four Benefits of Ceramides in Skin Care
The great thing about ceramides is that all skin types produce ceramides naturally, meaning that all skin types can benefit from ceramide creams and serums. 
Ceramides boost your skin's natural barrier and promote healthier cells by improving moisture retention and protecting against environmental irritants. Incorporating natural ceramides in your skin care routine is an easy way to hydrate dry skin, soothe irritated skin, nourish aging skin, and promote better overall skin health throughout every season. 
Best of all, because ceramides are naturally found components that your body is already creating, ceramide benefits come with no harmful chemicals. 
But what truly makes ceramide skin care stand out as an anti-aging or dry skin treatment? There are some unique benefits of ceramide skin care that might convince you to incorporate ceramides into your daily routine:
1. Ceramides increase skin hydration 
If you have chronically dry skin, your ceramide production is probably low. When ceramide production slows down, your skin's natural barrier is weaker. And as that barrier breaks down, your skin becomes susceptible to moisture loss (called transepidermal water loss, or TEWL). 
Ceramide skin care products can help support natural ceramide function, strengthening your skin's barrier and locking in moisture. In fact, a 2018 study found that even one application of ceramide cream "resulted in a significant increase in skin hydration over time."
Abbey St. Clare's Radical Creme is an anti-aging, anti-radical formula that is rich in ceramides to give your skin a radiant boost of hydration, support, and strength. This ceramide cream can be used in the morning or at night (some of our customers choose both). For best results, apply liberally to your face and neck areas after your regular cleansing and toning routine. Massage into skin to deliver smoothing, hydrating benefits each day.
2. Ceramides protect skin against irritants and eczema flare-ups
Because ceramides are the links that bond your skin cells together, a strong presence of ceramides means that your skin's barrier is equally as strong. This is what enables your skin to act as a shield against harmful pathogens. In fact, protecting against infection is exactly what your epidermis is designed to do. 
Eczema can be painful and frustrating, with recurring symptoms often appearing from childhood to adulthood. The itching and inflammation that comes from eczema is often attached to a specific allergen or irritant that comes into contact with the skin, breaks through the barrier, and causes a reaction. As ceramides promote a stronger, healthier skin barrier, your skin will be less susceptible to infections, irritants, and yes—even eczema flare-ups.
Use Abbey St. Clare's Radical Creme as a daily moisturizer on the face, hands, and neck to soothe, hydrate, and support a strong skin barrier. Apply liberally as part of your morning skin care routine, before bed as part of your nighttime skin care routine, or both. Let the Radical Creme absorb into your skin for a few minutes, and don't forget to gently massage from the interior of your face towards the exterior to ensure that your skin gets maximum benefits from ceramide skin care.
3. Ceramides provide anti-aging benefits
The aging process is inevitable, which means we will all start to lose ceramides as time goes on. While we can't stop the aging process in its tracks, ceramide skin care provides the opportunity to slow the effects of aging and promote good skin health for years to come. 
Because ceramides play a role in supporting moisture absorption, they are also closely tied with anti-aging benefits. Think of fine lines, wrinkles, skin laxity, and texture: these are all directly connected to loss of moisture, which leaves our skin more susceptible to damage. Using ceramides for skin that is maturing is an effective way to replenish the lipids that your skin needs to maintain those strong cellular connections, improving strength, resiliency, and the ability to absorb moisture.
Of course, our Radical Creme is a great way to infuse your daily skin care routine with antioxidants and ceramides for deep toning and moisturizing benefits. For a full ceramide skin care routine, pair with our Mineral Cream to Powder Foundation to maximize ceramide benefits of smoother, moisturized, and protected skin. 
The Mineral Cream to Powder Foundation includes more than ceramides: you can enhance your anti-aging benefits with tripeptides to soften wrinkles and oligopeptides to boost your overall skin health. Enjoy an effortless, cream-based foundation that turns into a silky, buildable, and long-lasting powder once applied to the skin.
4. Ceramides are safe for sensitive or irritated skin
Since your body naturally produces ceramides, they are safe for sensitive and irritated skin. In fact, because ceramides build your skin's natural barrier and promote better skin health, sensitive and irritated skin types are likely to reap the most benefits from ceramide creams and skin care products. 
If you have sensitive or irritated skin, natural ceramide skin care products are a great way to start building a foundation for healthier, stronger skin over the long term. Keep in mind that you'll want to ensure that the product you choose is fragrance-free if you are particularly sensitive to fragrances.
Our ceramide products are formulated with only the finest ingredients. We love providing our customers with nature-based solutions to keep their skin looking and feeling beautiful, both inside and out. For healthy and vibrant skin all year long, trust Abbey St. Clare for natural ceramide creams and skin care products. 
Leave a comment
Comments will be approved before showing up.