What's Behind the Trend of Caffeine and Salicylic Acid in Hair Care?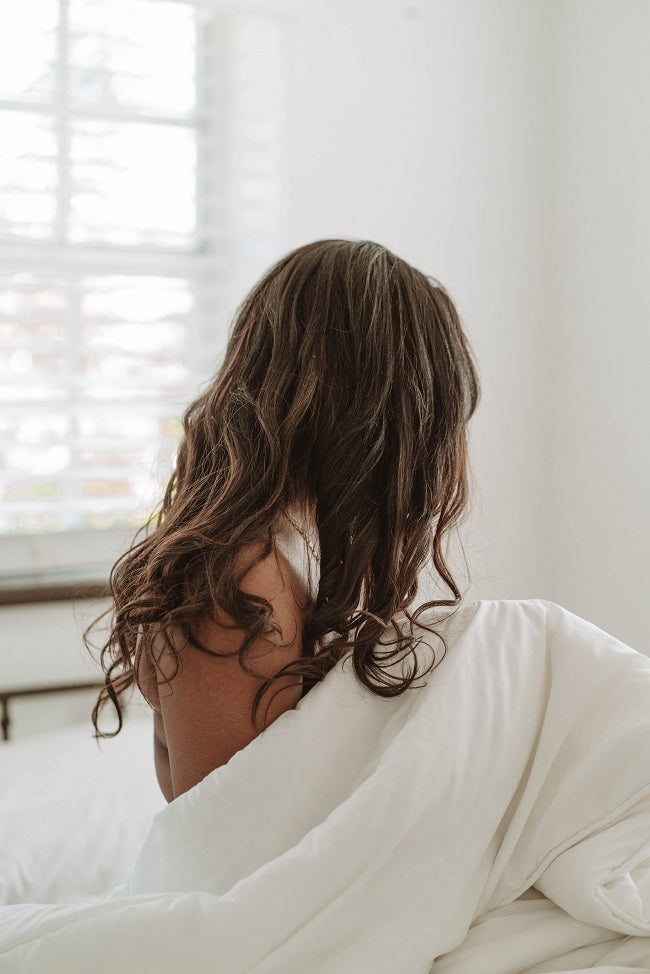 Using caffeine and salicylic acid in your hair care is hot right now. Folks are looking for clean alternatives to replace current, non-natural shampoos or trying to find cost-effective replacements. Whatever your motivation, it will help to learn a little bit more about each of these natural hair care products and how they can help your hair.
Caffeine for Hair Care
Benefits of Caffeine for Hair
Caffeine offers several benefits for your hair:
Encourages hair growth

- The hormone DHT may damage hair follicles, especially as you age. The caffeine found in coffee may help stimulate hair growth and stop hair loss. Caffeine, which is a stimulant, increases blood circulation to hair follicles and this may also help hair grow faster and become stronger.
Supports strong, healthy hair that appears softer and shinier

- Adding moisturizer to your hair care products helps with dull, dry hair. But rinsing your hair with coffee may also help improve damaged hair. The antioxidants in coffee promote hair regeneration, allowing your hair to become smoother. This helps with the overall health and appearance of your hair by relieving frizziness and brittle ends. The caffeine helps lock in moisture, creating a shiner appearance and leaving you with hair that won't break easily. Below we share a guide on how to do a coffee rinse.
Acts as a natural hair dye that may diminish gray hair

- Using a coffee rinse also tends to darken your hair naturally and it may reduce the appearance of gray hair. Since coffee is dark, it acts as a natural coloring agent for your hair. Use a dark roast coffee, such as espresso, for the best results.
Side Effects of Caffeine Hair Products
Side effects from using caffeine hair products are minimal but there are a few to keep in mind:
Scalp irritation

- Any time you try a new product on your skin, including your scalp, there is the chance it may cause a reaction. If you notice any kind of irritation, stop using the product.
Hair browning or discoloration

- Since coffee is a natural hair dye, you may notice that your hair is getting darker. If this is an unintended consequence, use the product less frequently.
How to Apply Caffeine to Your Hair
To help prevent hair loss and encourage healthier hair, caffeine must be applied topically to your scalp. This could include a shampoo or a coffee rinse. Caffeine is absorbed into your scalp quickly after each application. For best results, massage a caffeine shampoo for about two minutes into your scalp, then rinse. You can use a caffeine shampoo daily, but if irritation occurs, use it less often. You should start seeing results within three months. 
Caffeine Shampoo
Caffeine shampoo is simply a natural hair care shampoo that contains caffeine from coffee as one of the main ingredients. Why coffee in shampoo? Coffee is rich in antioxidants, which may benefit your hair. Treating your hair regularly with coffee, whether it is in good condition or it is damaged, allows antioxidants to repair and prevent further damage to your hair. Our caffeine shampoos include coffee & cloves shampoo and Nettles Scalp Treatment & Body Wash.
Coffee Rinse 
Making a coffee rinse is simple:
Wash and condition your hair as you normally would. While your hair is still wet, saturate your hair with the brewed coffee in your spray bottle. If you want extra moisture, mix a leave-in conditioner with the coffee.
If you are using a coffee rinse to dye your hair, it may take a few applications for the desired results. If you have light-colored hair and don't want your hair color to change, reap the same benefits of a coffee rinse by using a shampoo and conditioner that has caffeine instead.
Salicylic Acid for Hair
Salicylic acid is a powerhouse for skin care. It clears dead skin cells and other pore-clogging impurities from your face, body, and even your scalp. 
Salicylic acid is a beta-hydroxy acid and an exfoliator that helps remove excess oil and dead skin cells from your skin. Most people could benefit from using a salicylic shampoo or hair product, but if you have an extremely flaky, dry scalp with oily hair, you may benefit most. 
Benefits of Salicylic Acid for Hair
Salicylic acid provides wonderful benefits for your scalp:
Helps with dandruff and scalp irritation

- Salicylic acid is an exfoliator, so it helps remove dandruff and dead skin cells from your scalp. Excessive dead skin buildup worsens an uncomfortable, itchy scalp. Once dead skin buildup is removed, you have an itch-free scalp.
May help with hair loss

- There is evidence that suggests that salicylic acid can help reduce hair loss. Since salicylic acid helps remove excess sebum, which contains DHT, the hormone responsible for hair loss, it may be a key in thwarting hair loss.
How to Use Salicylic Acid for Hair
You have several salicylic acid options for your hair:
Medicated shampoos and topical serums

- If you have severe issues with your scalp, a medicated shampoo or using a topical serum may yield the best results. Use as directed and be sure you don't overuse these products, since this could worsen the problem.
Scalp shampoos

- Switch out your normal shampoo with a salicylic acid shampoo. Use once or twice a week to see how your skin responds. If you don't notice any irritation or extra drying, you could use it up to a maximum of three times per week.
Scalp Scrubs

- For a deeper cleanse, use a scalp scrub. Excess oils, dead skin cells, and dry flakes naturally build up on your scalp. Use a scrub once a week to eliminate these unwanted impurities.
Hair Type Considerations
If you have a sensitive scalp, you could potentially have a bad reaction to salicylic acid. If your scalp and hair are very dry, avoid salicylic acid shampoos and conditioners because they could make these conditions worse. If your scalp is sensitive, use a salicylic acid shampoo only once or twice a month, rather than weekly. 
Caffeine and salicylic acid shampoos and conditioners are popular because they have properties that enhance your scalp and hair health. Our shampoo and conditioner combination contains only ingredients found in nature, so you don't have to worry about putting synthetic ingredients or harsh chemicals on your scalp and hair.
Leave a comment
Comments will be approved before showing up.