How to apply makeup for deep-set eyes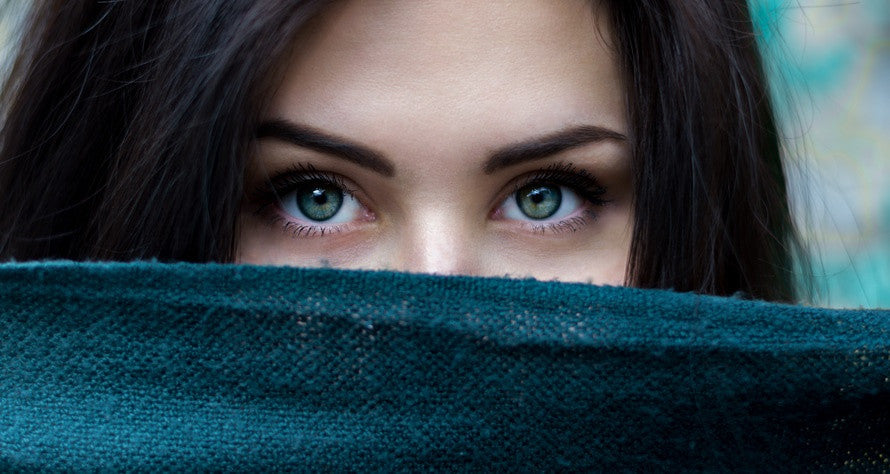 Knowing your natural eye shape is the first step in learning how to best play them up. For starters, those with deep-set or hooded eyes require different eyeshadow colors and makeup techniques to complement their natural eye contours compared to those with protruding or wide-set eyes. 

I also will take you through some helpful tips to apply makeup for deep-set eyes that are sure to flatter your lids. But first, let's find out if you have deep-set eyes.
Do you have deep-set eyes?
You have probably heard the term 'deep-set eyes' before, but do you really know what it means or if it applies to you? Basically, deep-set eyes are those that are set further into the eye socket, making the brow bone more prominent. It can also cause your eyelids to appear hidden, which we will address shortly.
I want to clear this up: hooded eyes are not the same as deep set. Hooded eyes are when skin droops over your brow bone crease, causing your lids and eyeshadow to be less visible.
For a quick test to determine if you have deep-set eyes, place your pointer finger over one of your eyelids, vertically. Touch your brow bone with your finger while resting your palm against your cheek. If you eye remains open without your finger touching it, then you likely have what are considered deep-set eyes.
If you fall into this category, you are in great company with Cameron Diaz, Claudia Schiffer, Halle Berry, Sandra Bullock, and Taylor Swift - just a few famous beauties with deep-set eyes.
7 Easy makeup tips for deep-set eyes
By choosing the correct tone and method of applying eyeshadow, it creates an illusion of a less saggy eyelid and opens up the entire eye area. Here are some easy steps for applying eye makeup for deep-set eyes:
Step 1: Prime time. As always, I recommend non-toxic, natural makeup on your skin and eyes. Begin by using Prime Time Eye Primer on your lids. Not only does it makes your eyeshadow last all day, but it glides on smoother and also prevents creasing. With its anti-aging ingredients, it makes an indispensable daily treatment for younger-looking eyes. It might just be one of the best makeup inventions.
Step 2: Hide shadows. Deep-set eyes are notorious for casting shadows or dark circles, so to get around this, use a concealer like the Soft Focus Mineral Concealer Cream Stick. Blend into the skin well for the most natural look. Follow up with a little foundation over top or dab on setting powder for a flawless finish.
Step 3: Colored to perfection. Bring those deep set eyes out of hiding by dusting on a neutral or warm colored eyeshadow (light pink, peach, beige) under the arch of your brow bone to diffuse any shadows. Abbey St Clare's Mineral Pressed Shadow in Sugar Cookie or Optimist are excellent choices to brighten up and appear to lift this area. If you want a natural, elegant look that transitions from day to evening, add a touch of dark eyeshadow to the outer edges of your eyelids using one of these natural eyeshadow colors: Vortex, Mudslide, or Infiltrate.
Step 4: Beauty tools. For flawless makeup application, it is essential to have the right tools, especially when it comes to the eye area. I recommend picking up the Eye Contour Duo Brushes made with sable hair. One side is a rounded dome for broader swaths of color over lids and brow bones. The second end has shorter hair with a slight angle to reach into the corners and creases. It can also be used for lip creams, concealers, or highlighting powders.
Step 5: Illuminate your lids. To make the most of your deep-set eyes, sweep a highlighting shade over your entire eyelid and at the inner corner. You may want to check out Abbey St Clare's natural eye makeup called Colours Loose Mineral Eyeshadow Powder in Blush, Daphne, or any Moonstone varieties (blue, copper, gold, or violet) that will complement any skin tone.
Step 6: Eyeliner for deep-set eyes. Having deep-set eyes does not mean you need to ditch the eyeliner. The goal is to make the line lighter on the inside and thicker toward the outer edge. For a more dramatic or evening look, you can make this line slightly thicker at the end or 'wing it' upward for a slight cat-eye effect. Be careful not to apply eyeliner too thick otherwise it can make your eyelids appear to recede, which is the last thing you want.
Lastly, you can also use the same dark eyeshadow (see step 3) to smudge along your bottom lash line and taper it as you pull it through to the inner corner of your eye.
Step 7: Luscious lashes. With deep-set eyes, a strong brow bone can detract from your eyelashes. Apply a few coats of black Long Lash Conditioning Mascara or Enhance Mascara, with extra attention on the outer corners to lengthen your lashes. This final touch will make your eyes appear more open and brighter while giving you a complete look.
Leave a comment
Comments will be approved before showing up.