How To Naturally Control Oily Skin & Reduce Shine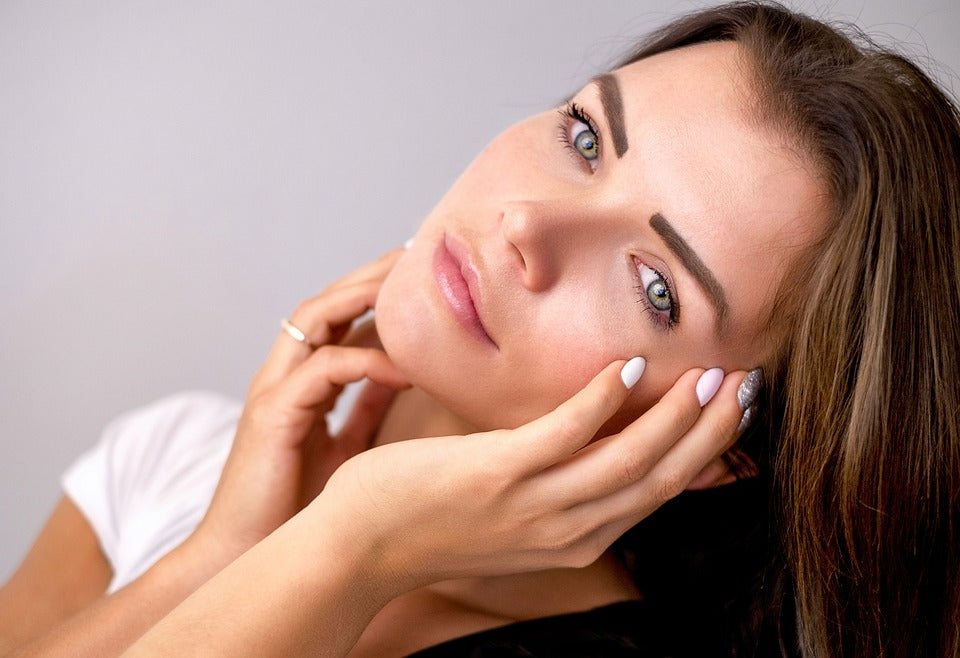 Do you struggle with oily skin? Have you tried a host of products that simply can't control the shine and oil? Well, you're not alone. Everyone has oil in their skin to keep it healthy and hydrated, but some people's sebaceous glands produce too much oil. 
Oily skin is tough to manage, and you can't necessarily get rid of it. However, there's good news—you can reduce oily skin naturally and reduce shine. We've been working on this problem for a long time, and are now able to address it with cleansers, creams, astringents, and cosmetics—a collection of products with soothing, skin-loving ingredients that fight shine and control oil production. 
Before we talk about natural oil control for your face, let's go over some causes for oily skin, as well as natural, effective ingredients to look for in facial cleansers and creams.
What are the Causes of Oily Skin?
Why do some people have oily skin while others don't? Well, it's not about good or bad luck—in fact, there are many underlying causes for oily skin. The key is to identify the specific causes and treat them accordingly. The optimum treatment is different for everyone. 
A broad explanation for oily skin is the fact that the sebaceous glands in the skin make too much sebum. An oily, waxy substance, sebum is actually vital for your skin. It keeps it hydrated, protected, and healthy. But too much sebum can lead to oily skin. This in turn can lead to clogged pores and acne. Managing oily skin often requires making regular skin care a habit. 
Oily skin can have many underlying, often complex causes:
Genetics

—Oily skin runs in families. So, if one of your parents has overactive sebaceous glands, you probably do too. 
Hormone fluctuations

—Changes in hormone levels—particularly during adolescence, pregnancy, and menopause—can stimulate an increase in sebum production.
Symptoms of Oily Skin 
You more than likely have oily skin if you have one or more of these symptoms:
Unfortunately, oily skin can feel greasy even an hour or two after cleansing. If you use oil-blotting papers and find that you go through quite a few of them in a day, you probably have oily skin. You are also more likely to have acne breakouts if you have oily skin, since sebum mixes with dead skin cells and gets stuck in your pores, causing acne.
Natural Ingredients for Oily Skin
Below are natural ingredients to look for in facial cleansers and creams that fight shine and control oil production:
Vitamin B—When your skin is lacking Vitamin B, it can lead to acne, oily skin, or eczema.
Rich in Vitamin B, Abbey's Vitamin B Complex Creme also contains pore-clearing salicylic acid and tea tree essential oil, along with Vitamins A and C for clear, healthy skin. Use morning and evening after cleansing and toning. Massage into the skin of your face and neck. Add an additional cream during the day if needed to combat very oily skin.
Comfrey—Comfrey has been used for centuries to soothe and calm skin. A potent herbal remedy with essential oils of helichrysum, German chamomile, and tea tree, the Comfrey Tonic balances oils to reduce shininess and restore balance to your skin. Wipe or spray this calming tonic anywhere on the body that is experiencing oiliness or stress.
Tea tree—A natural essential oil without harsh side effects, tea tree boasts antibacterial and anti-inflammatory properties to fight acne and overactive oil production. Tea Tree Cleansing Gel reduces oil and cleans your skin with no burning sensation or irritating dryness. 
Green tea—Loaded with skin-loving antioxidants, green tea targets the root cause of oiliness by minimizing oil production in skin cells. Try our Green Tea Scruffing Milk Cleanser—it's a moisturizing 90 percent organic cleanser made with green tea and rooibos tea extracts that cleanses, exfoliates, and nourishes the skin.
Witch hazel—A natural astringent, witch hazel works as a toner to hydrate and moisturize. It also has anti-aging properties, countering the damaging effects of UV rays. Effective yet gentle, our Witch Hazel Hydrosol cleans pores without overdrying. Antibacterial and soothing, this hydrosol is ideal for oily and acne-prone skin. Apply to face with moistened cotton pad as astringent tonic after cleansing face.
Natural Makeup for Oily Skin
Mineral foundations in general meld into the natural skin oils, and baked minerals provide a completely natural no-makeup finish when applied with a light hand. If you want a mineral makeup that's lightweight and ideal for oily skin, then consider the Baked Mineral Foundation. It controls oily skin, tones down shine, and reflects light to blur imperfections. With a wide array of color options, you're sure to find one that blends beautifully with your skin tone. 
You may be wondering why our mineral foundation is baked. This unique innovation comes from Italy and uses a method of baking mineral powder mixtures on clay tiles for 24 hours. The result is a unique swirling of colored minerals in the form of pressed powder with the silkiness and hydrating essence of a liquid foundation. Lightly dust powder over your skin, working it lightly into the skin with circular movements of the brush.
Our Oil Control Primer Powder glides on colorless for a smooth, matte finish that eliminates shine. Its colorless nature makes this useful for both men and women. Use this powder as a primer to produce a smooth base for the application of makeup, or alone to reduce shine, control oil, and minimize the appearance of large pores. This powder can be applied during the day without buildup if more shine control is needed.
Natural Astringents to Fight Shine
Astringents are an ideal way to dry out oil, cleanse the skin, and tighten pores. Fight facial shine and control oily skin with the following hydrosols that are natural astringents:
Orange Blossom Hydrosol—also known as neroli hydrosol—is an antibacterial and antifungal astringent that makes a wonderful treatment for sensitive, delicate, or oily skin to reduce irritation and clear acne. A synergy of cooling mint peppermint and spearmint, our Mint Hydrosol is wonderful as a toner for oily skin, particularly in the summer. It works exceptionally well at helping to control oil production. Lemongrass Hydrosol is an extremely useful astringent to relieve oily skin and blemishes. Use it after exercising on the face, neck, and shoulders to clarify skin. It's also great when used as a refreshing oily skin toner in the morning and at night.
More Tips to
Reduce Oily Skin Naturally
Wash your face before bed.

When you go to bed with makeup on, you're just asking for skin troubles! Always cleanse your face and remove any dirt, oil, and makeup before you turn in for the night. 
Avoid touching your face.

Did you know that on average, you touch your face over

2,000 times a day

? This can spread dirt, bacteria, and oil from your hands to your face. Try to avoid touching your face except when you're cleansing or applying makeup or moisturizer. 
Keep blotting sheets handy.

Absorb excess oil and minimize shine on your face throughout the day with oil blotting sheets. Keep them in your purse, gym locker, and car.
Apply moisturizer daily.

Even if you have oily skin, it's vital to keep your skin hydrated. For double duty, use a moisturizer that also contains a broad-spectrum sunscreen with an SPF of 30 or higher.
Oily skin can be embarrassing and make you feel self-conscious. Fortunately, there are natural ingredients that can help gently control oil and reduce shine. Abbey St. Clare combines science and nature to create products that promote health, as well as beauty. Shop our collection of natural body and skin care products with ingredients that you can trust.
Leave a comment
Comments will be approved before showing up.